Value Added
Portfolio
November 2, 2018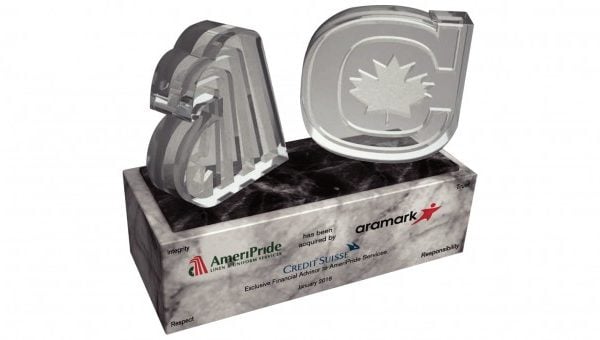 AmeriPride is a uniform rental and linen supply company operating across the United States and Canada. In January 2018, it announced that Aramark, an American publicly traded company in the same industry, had completed its acquisition. The two firms have a lot of synergies both in business strategy and in values which inspired the deal toy.

To commemorate the sale of the company, it was important for AmeriPride to celebrate the solidity of the firm throughout the years, its international accomplishments, and its values. First, two beautiful, sturdy marble blocks were chosen for the base of the deal toy. Their elegance and solidity reflect Ameripride's long history and the quality of their products.
On top of the tombstone base stand 2 custom crystal logos. Ameripride's "a" shaped logo with a version of the American flag 3D etched inside, and following the same style, a large C with a 3D etched maple leaf to represent the company's Canadian expansion.
The final touch were the values. Strategically placed near the 4 corners of the marble base, they are there to emphasize the owners' key success factors to building their company.
The clients were touched by the thoughtfulness of the tombstone and how accurately it reflects the spirit of their company. What a great start to a bright future with Aramark!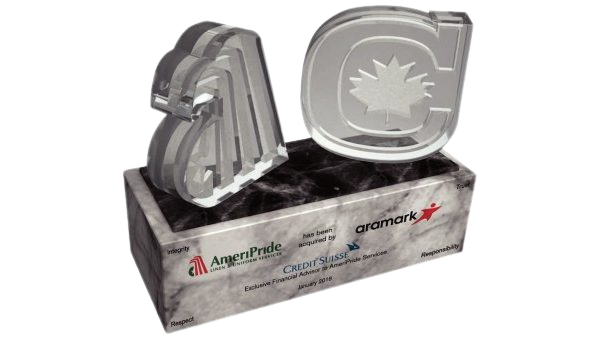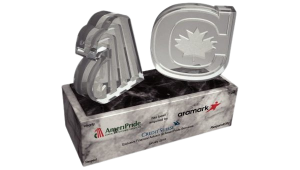 Winter Wonderland Deal Toy
Our client was looking to celebrate a deal for a Utah-based ranch and distillery. The property is known for its luxurious amenities and splendid […]