Altrum is Going Sustainable!
August 30, 2022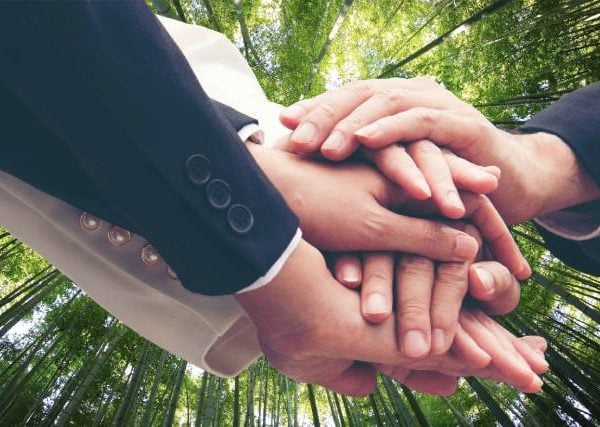 As the industry leader of celebration and inspiration, Altrum has taken new strides to bring greater value to its clients and customers by the way of Environmental Social Governance. Altrum's team of dedicated business professionals have taken on the responsibility to support environmental sustainability initiatives that will help better our planet and set new leadership standards that concern climate change. Paving the way for the future of gifting to be more environmentally conscious, Altrum is incentivizing more sustainable product production, delivery, and offerings.
Altrum has joined the global effort by signing the UN Global Compact with 14,000+ other fellow businesses, corporations and communities alike, to off-set carbon emissions and adopt more sustainable solutions in order to help our world sustain its resources and combat the effects of global warming. With this commitment Altrum has also agreed to uphold the UNGC principles of association in the 4 key areas of Human Rights, Labor, Environment and Anti-Corruption.
Altrum's Environmental Social Governance (ESG)
The Altrum team and its leadership have committed to providing better solutions within our business practices to support a greener governance model. Our CEO has delivered a statement that has been the guiding voice in our initiative to bettering our environmental accountability:
"Altrum's mission is to help organizations celebrate achievements and inspire people. Now more than ever, organizations, including Altrum, are conscious of minimizing their impact on the environment. Altrum is committed to help clients celebrate achievements and inspire people while addressing their concerns about the environmental impact of their actions."

– Louis-David Bourque, CEO at Altrum
In tandem with offering environmentally friendly products that contribute to conscious consumerism, we have committed ourselves to growing our ESG by partnering with Englobe. This external firm has helped Altrum assess its carbon footprint and identified opportunities to improve for us to help meet our carbon reduction goals.
In adopting business strategies that align with improving sustainability principles and practices, we will join a collective global effort to help preserve the long-term viability of our planet and its people. For the past decade, Altrum has been making significant changes across the business to support our corporate and social responsibility principles with accountability, transparency, and ethical behavior. Since January 2021, we have started our commitments to reduce carbon emissions, but have committed to more significant strides in our business practice and operations to greater minimize our carbon footprint that will help offset climate change, with five key steps.
Altrum's Environmental Sustainability Goals
Operations
Altrum has analyzed and strategized to find the highest environmental carbon output impact of our operations and has created 3 scope solutions that will repair and off-set carbon pollution effects. Our 2025 goals are focused on CO2 reduction by making adjustments in the following areas: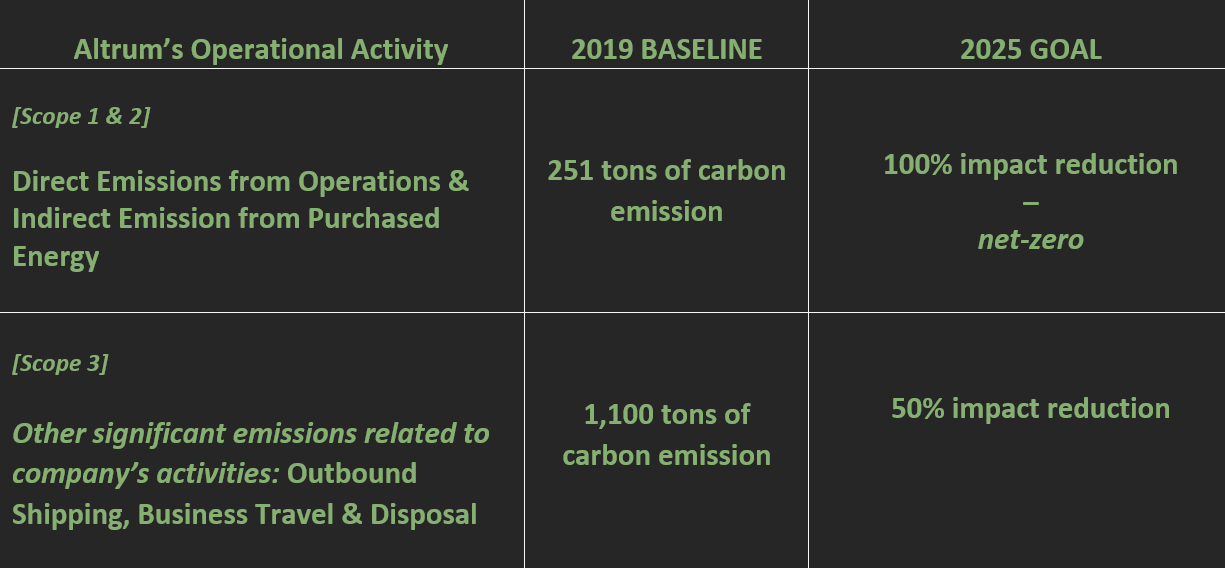 Part of Altrum's environmentally friendly improvements include instilling sustainability as part of a corporate wide initiative to our business practice. Altrum commits itself to establish a culture of responsible integrity, by adopting the Ten Principles of the UN Global Compact to lead our new strategy, culture and day-to-day operations. With a heightened respect to Environmental Social Governance and 5 critical steps taken toward accomplishing 2 of our main environmental sustainability goals – we have set the pace and tone for the future of our business and governance, to and for the welfare of our planet and those who inhabit it.
Offerings
As an added effort to support our Sustainability initiative commitments, Altrum will now offer more lower environmental impact materials for your custom designs of your awards and deal toys. Additionally, we have partnered with gifting partners and suppliers to offer more sustainable gift products.
Altrum's Carbon Offsetting Operations
One of the first few steps to our enhanced sustainability initiative is an environmentally friendly, Carbon Neutral Packaging and Shipping option.
Green Materials & Environmentally Low Impact Packaging

All boxes used for shipping are recycled and recyclable.
Internal packaging will utilize recycled, and recyclable shrink wrap to minimize unhealthy environmental impacts, in comparison to our past shipping materials such as plastic bags and bubble wraps. (Full rollout of this improvement will be complete before the end of 2022).

Less Material Waste

Our recycled boxes that deliver your environmentally responsible deal toys and awards will help minimize our carbon footprint by not implementing as many containers when being packaged to you.
Compact and efficient – delivery will come in smaller and accurately sized boxes, which will lower volume shipment and create a lower carbon impact.

UPS Carbon Neutral Shipment

To better offset our carbon footprint – Altrum is offering Carbon Neutral shipping at no additional cost to you, worldwide!

Optimized Delivery

With the help of local supplier stock and production we will be making a 1-time delivery versus the 3-5 deliveries in the past.
We have tested our carbon neutral packaging and shipping to ensure we are meeting your standards and complying with our UN Global Compact's promise.
To learn more about Altrum's improvement commitments in sustainability principles and practice, get in touch with us today!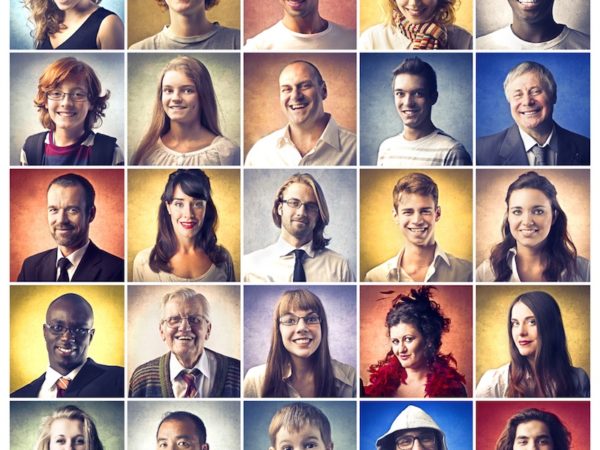 5 Elements To Promote Happiness In A Business
FastCompany published a recent article on the Secrets of America's Happiest Companies. The article compiles the results from the 50 happiest […]
the 4 Elements of Effective Recognition
One of the keys to driving employee engagement is recognition. Everyone needs to be recognized for the work they do. There are a million ways to […]