ALL YOUR RECOGNITION PROGRAMS UNDER THE SAME ROOF.
Recognition programs
The Gift of Choice
Maximize both your time and employee satisfaction by choosing our turnkey management service.
Quick and easy implementation (10 business days).
Over 100 gift choices and experiences for budgets between $50 and $500, and a wide variety of choices for budgets over $500.
Customizable communications, from the invitation (e-mail or paper) to the order confirmation and gift delivery.
Manager support – the capability to send automated and personalized prompts to the manager just before their employee receives their gift invitation.
Ongoing support for your HR team and after-sales service for your recipients.
Home or office delivery anywhere in Canada and the U.S.
Dashboards: Management autonomy and visibility over your programs in real time.
Ideal for:
Years of Service Programs ● Retirement ● Health and Safety ● Performance ● Life Events
For all types of industries
Gifts for All Tastes
With an assortment of over 10,000 gifts, there's something for everyone.
Accomodations
Jewelry
Outdoor Products
Electronics
Household Items
Tools
Arts & Entertainment
Activities
TO GET A GLIMPSE OF OUR GIFT SELECTION
View here
A smooth process for you and your employees
1. Store created
2. List of recipients prepared
3. Invitations sent
4. Gifts selected
5. Gifts delivered
Recognition Programs
Reward points and
peer recognition
Bring your employees together, increase recognition between colleagues and offer rewards that reflect your brand!
Available 24/7, on any device, for all your employees, this tool includes:
Reward Points System
Save time and money by simplifying how you manage your campaigns, contests and other initiatives involving rewards.
Virtual Recognition Wall
Enable employees to give and receive peer recognition quickly and easily.
News Feed, Celebrations and Badges
Share important information (like tips and reminders) with a group or all your users, celebrate birthdays and anniversaries automatically, and award badges to recognize good work.
Incentive Campaigns and KPI Management
Easily communicate ongoing contests and campaigns, then share updates on your performance indicators via the employee dashboard.
Ideal for:
Value Recognition Programs ● Occupational Health and Safety ● Achievements ● Team performance ● Sales Contests
Discover our one-of-a-kind flexible reward store!
Offer a wide variety of gift cards and experiences.*
Then add your own rewards at no extra cost: branded merchandise, days off, causes to support…
The possibilities are endless!
*Experiences are available across Canada.
Gift Cards
Experiences
Corporate Merchandise
Personal Days Off
Recognition programs
Corporate Awards
To mark a milestone or an achievement, there's nothing like a symbolic piece to make a lasting impression and inspire your employees.
A transactional site that can include a private area with personalized, ready-to-order awards designed specifically for your company.
Quality products, in acrylic or crystal, designed and manufactured in Quebec.
The ability to develop your own creations using the text, photo and logo of your choice.
Simple purchasing with short turnaround times, no minimum quantities required and worldwide shipping.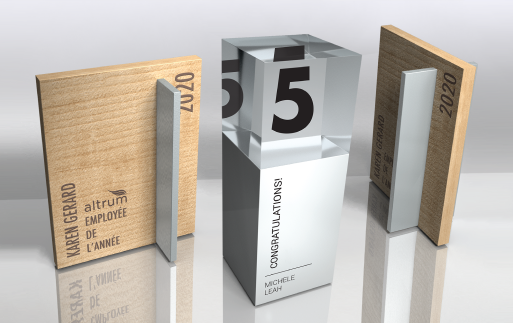 Ideal for:
Retirement ● Project Closure ● Traveling Trophy
Performance ● Customer Recognition
Join the companies that trust us!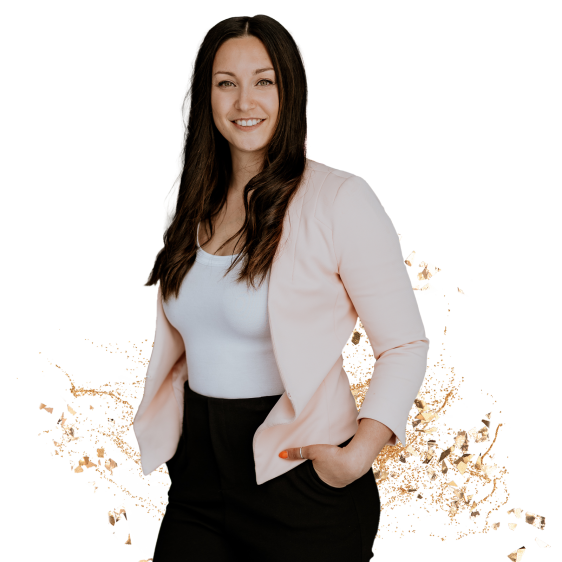 A perfect solution when making purchases in small quantities, and for meeting last-minute needs.
Josée C., client - manufacturing company
This is my good news channel. It's good for morale!
Abbie C., employee - service company
I no longer have to buy and send gift cards!
Mélissa L. client - mining industry
I appreciate the visibility I have on recognition, points, and awards selected. I can easily get the reports I need.
Edouard E., client - IT company
Fast and easy service!
Marie-France G., client - engineering company
Everything was perfect!
Denis D., recipient - manufacturing company
Discover some of our projects