Gildan® creates an original Years of Service program on a global scale
with an evolutionary troyphy
February 19, 2021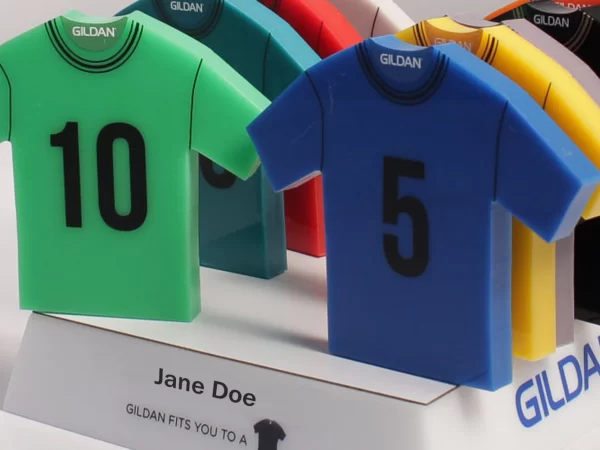 Gildan® has been providing premium casual wear since 1984. Their outstanding selection of t-shirts, polos, sports shirts and accessories is available in a variety of styles, cuts and sizes.
The company was looking to standardize its Years of Service program for its various offices around the world. They wanted to create a sustainable, symbolic award that fit the company's image, with a partner that could simplify the program's management. With over 4,000 employees being celebrated that evening, this presented a major challenge.
In collaboration with the creative team at Altrum, Gildan's organizational development team began a joint and iterative process of designing three scalable concepts within their budget. The chosen concept was a magnetized base on which the party could place a sweater representing the number of years of service attained in different Gildan® colors.
For the first milestone, each employee receives the base and their first sweater. At the next milestone, employees receive the next colored sweater, and so on. Altrum  also developed a custom box for sending the sweaters in gift wrap. The trophies were shipped directly to Gildan's various offices to facilitate their project management teams.
Gildan® was highly satisfied with the products received and impressed by the speed of production and continued customer support.
Events were organized in all offices to launch the Years of Service program, so employees could familiarize themselves with the concept. They were moved by the awards they received, finding them both thoughtful and original.
To Gildan® – congratulations on setting up such a program on a global scale. Thanks for the confidence entrusted throughout this beautiful project.
Winter Wonderland Deal Toy
Our client was looking to celebrate a deal for a Utah-based ranch and distillery. The property is known for its luxurious amenities and splendid […]