Fransyl
How Fransyl is celebrating employee service anniversaries in a unique way
September 30, 2022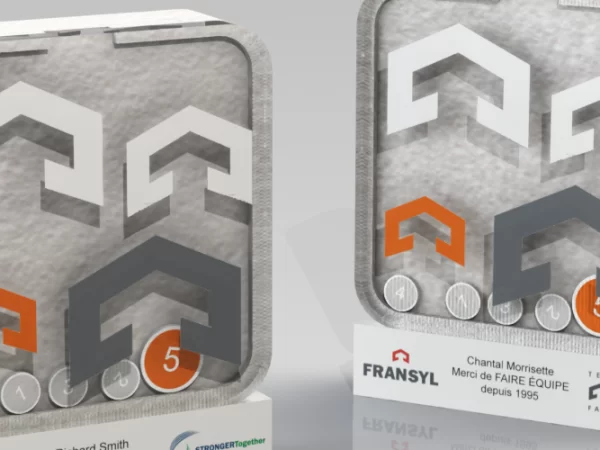 Fransyl is a manufacturer of expanded polystyrene and a distributor of building materials for roofing systems, insulating formwork systems, building frame systems, infrastructure systems and system components.
The company wanted to offer its employees a trophy to mark their first year of service, highlighting their commitment and expanding their sense of belonging within Fransyl. The project leaders had two ideas in mind: to create an evolving concept that integrated one of the company's manufacturing materials.
Altrum's creative team developed a concept involving expanded polystyrene. By adding a white acrylic base and plexiglass to the front of the expanded polystyrene, the piece quickly became a unique trophy: The Fransyl Group's Commitment Bank.
The concept of tokens was developed to make the Commitment Bank scalable. By placing a slot between the plexiglass and the expanded polystyrene, chips can be slipped into the piece.
The Commitment Banks are presented when an employee celebrates their first service anniversary, and tokens are awarded for each additional year of service. The concept has the advantage of not having to go back to production for extra years of service, while letting Fransyl's management team keep chips in inventory.
The Fransyl team was thrilled with Altrum's concept and the products they received. Fransyl knows that an award is valued not just for its quality, but for the manner in which it's received.
Indeed, each Commitment Bank is awarded to an employee by their supervisor on the day of their first service anniversary. A vault, called the Hall of Fame, was even built for employees with no office. Each award ceremony is photographed, filmed and broadcast on closed-circuit television. Events were also organized at each Fransyl facility to award Commitment Banks to any employee with over a year of service.
Fransyl employees were proud of both the establishment of an internal recognition program, and the trophy they received to symbolize their commitment.
To Fransyl – a heartfelt congratulations on your unique recognition program. Thank you for the trust you placed in Altrum to make your ideas a reality.
Winter Wonderland Deal Toy
Our client was looking to celebrate a deal for a Utah-based ranch and distillery. The property is known for its luxurious amenities and splendid […]