Zanella Deal Toy
Portfolio
November 1, 2018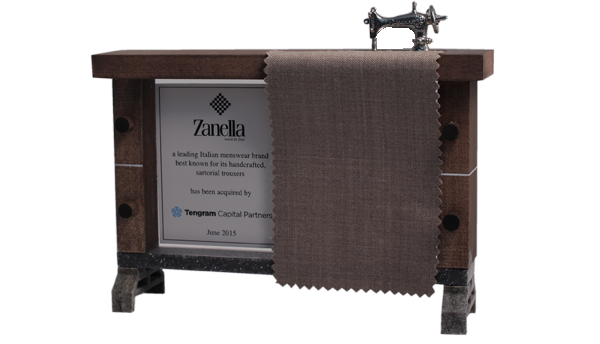 Industry
Consumer & Retail

Zanella is an Italian menswear brand, best known for its high quality fabrics and iconic trousers. To celebrate Zanella's acquisition, Tengram Capital Partners wanted a deal toy that would reflectthe craftsmanship of the brand, and incorporate the product in a creative way.
While brainstorming with the client, the team was inspired by an image of a vintage sewing machine, and the fabric sample provided by Zanella. The team thought the metal machine miniature combined with a traditional wood and stone worktable would showcase the heritage of the Italian brand. In addition, instead of blatantly displaying the trousers, the team thought of amore abstract way to put the product under the spotlight. We decided to place a fabric sample on top of the table, making it look like a work in progress. Zanella arranged to have original fabric samples sent directly from their Italian factory, so that they could be incorporated into each of the deal toys.
The final product is a mixture of symbolic elements which form a unique memento. The clients were very happy with the results, and gave kudos to the account manager that made their ideas come to life through this elegant deal toy.
Winter Wonderland Deal Toy
Our client was looking to celebrate a deal for a Utah-based ranch and distillery. The property is known for its luxurious amenities and splendid […]