Lights, Camera, Action!
Case Studies
August 10, 2023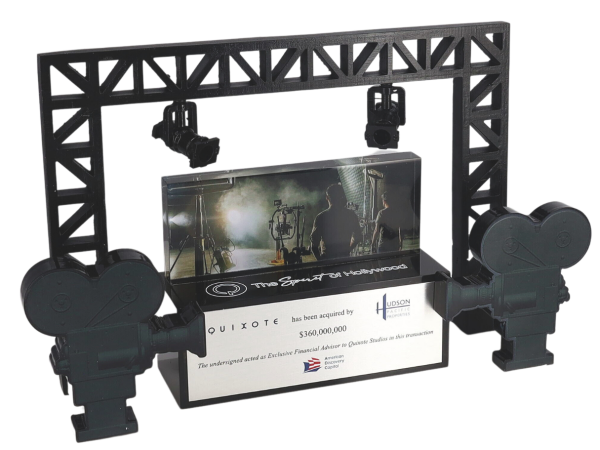 The key to a successful deal toy is ensuring it builds a personal connection with the client.
Having a meaningful deal toy sit on the desk of your key stakeholders reminds them of the success you shared together, but it should also be deeper than that.
We had the pleasure of working with American Discovery Capital and helping them celebrate their successful transaction. And what better way to commemorate the sale of a soundstage and production services provider than with a 3D printed studio set up!

We utilized 9 different pieces to create the magnificent deal toy below. 3D printed rig and lights set the backdrop for the studio which was made from different coloured acrylics that included imagery and a silver plate for the transaction details. Setting the studio on a white base with 2 custom cut studio cameras finished the look and made the piece exceptional.
Thanks to the American Discovery Capital team for their collaboration, willingness to push the boundary on the designs and for the kind words below, we appreciate it!
"Working with Altrum provided a unique and customized experience. The design team eagerly took on new ideas and the entire team diligently worked through numerous designs until achieving the perfect result for the client. The final product was distributed to multiple recipients, enabling them to appreciate the product firsthand and yield benefits for years to come."
Winter Wonderland Deal Toy
Our client was looking to celebrate a deal for a Utah-based ranch and distillery. The property is known for its luxurious amenities and splendid […]