Branded
Portfolio
November 2, 2018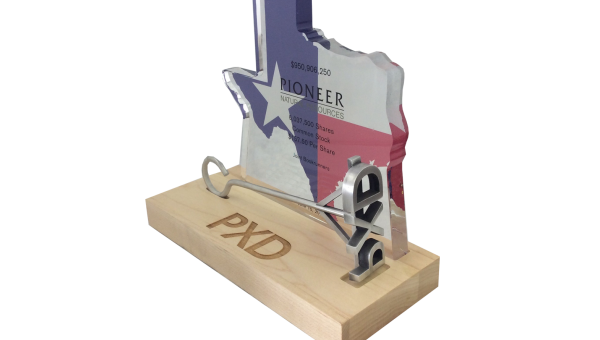 Pioneer Natural Resources is a publicly-traded, Texas-based independent exploration and production company that delivers production and reserve growth through onshore, unconventional, oil and gas resource development in the United States. To celebrate a recent equity offering, our client was looking for a unique Deal toy.
The Deal team had a special request; incorporating a branding iron with the company's ticker. While wanting to remain true to the nature and culture of the company, a few tombstone ideas were sketched out and a winner emerged.
The chosen Deal Toy concept consists of a wooden base, where the custom branding iron is placed. The base features an etching in the shape of the ticker as if it had been branded. The Deal Toy information is printed on a Texas-shaped crystal, with an image of the state's flag in the background.
The client was very happy with the outcome, from how realistic the branded wood looked to the creative tombstone layout. The Deal toy was distributed to all parties involved and received many compliments.
Winter Wonderland Deal Toy
Our client was looking to celebrate a deal for a Utah-based ranch and distillery. The property is known for its luxurious amenities and splendid […]