Why Should You Create Custom Awards
April 23, 2020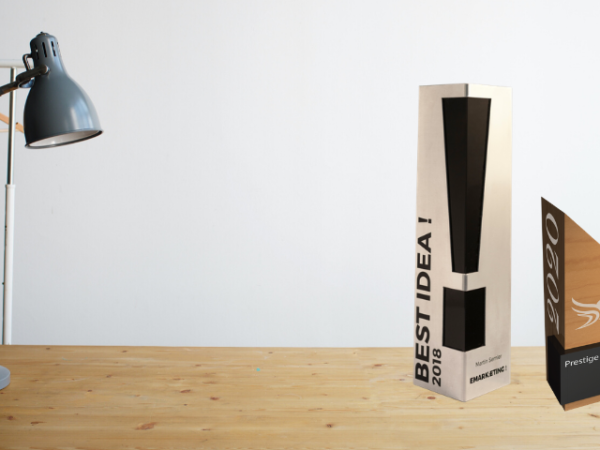 If you want an inspiring award, something to remember for years, listen to our top reasons to customize our awards.
What is the key to a successful employee? Most would say it's motivation or drive. Is your employee motivated to do their job? Are they motivated to do better than they did yesterday? Do you think they are motivated to hit their promotion? Some might be and maybe others need a little push.   
There is no better motivator than being recognized for the work that you put in. Take the opportunity to celebrate your highest earner of the quarter, your best performer, most creative employee, the possibilities are endless in the world of awards. The key to giving out awards is customizing them.   
Your custom awards should mean something
Let's create something meaningful that accurately represents your brand while celebrating the achievements of your employee. Some questions you might think about: What do you want to portray? Where will this award be shown off? Do you have any ideas? Not to worry – we are here to help! We'll find a way to creatively celebrate your employees.  
First, let's discuss why custom awards are beneficial
Incentive Magazine wrote a great piece explaining why awards are the best way to recognize an employee. A topic up for debate and one we've discussed in a previous blog post: are awards better than cash? We know they are, but we also want to prove this statement. Check out their full article here.
Here is why: 
–Appreciation Versus Entitlement: let's say you have an employee who is used to getting recognized for their hard work and you have a system set up that gives cash awards. Winning this will start to feel like a part of their salary rather than an award for the hard work they've put in. They may even feel punished if for some reason they do not win.  
–Effort Justification: the article states that a fact, also known as "The Ikea Effect," shows that people will put a higher value on tangible awards they have earned as a reward than its cash value. For example, they will value an $8.50 movie ticket at $9.25 to $11.50 when it was won as an award. 
–Social Signaling: probably the most obvious of them all is the bragging rights. People will talk about winning an award and it will also be a physical trophy that others can see and maybe even want to work towards. On the other hand, no one will really talk about a cash reward because talking about money with your colleagues isn't common.  
—Perseverance, Effort, and Performance: tangible non-cash awards lead people to work harder to win a potential award to which they have formed an emotional attachment. 
You've decided on starting an award system. Now what?
Now comes the fun part. Customizing the awards themselves. In more ways than one, it is important to put thought and effort into your awards. There are plenty of standard award templates out there and there are good times to use those as well. But here we'll dive into why you should customize your awards.  
Personalization
As mentioned above, it's imperative to make the employee feel important. This not only makes them want to do better and achieve more at your organization, but it helps the company as a whole. Having those who want to achieve something will not only make for a robust set of employees, but it will also help with retention. And not to mention, bringing in new talent as well.  
By having your awards personalized, to you, it might just seem like a name or a title on an acrylic slab. To the recipient, it's something they can look at it and pride themselves in. You didn't gift them a run of the mill or "copy and paste" award that you keep stocked in the back to give to your heavy hitters once a month. It shows that you took the time and you truly want them to be able to show this off. Receiving this award is an honor and they should want to show it off as much as possible. Which will lead us into our next topic:
Brand Exposure
Whether your recipient decides to showcase their achievement at their desk or at home, you'll see a few things that are important to note: company culture and brand exposure. You'll want to customize your award to have your logo on it. Maybe a company slogan! You name it, we'll create it. The idea here is that your company is the one to work at. You want the people who pass by the award to see it and you want the recipient to remember that, always.  
They'll maybe even want to share on their social media that they've won the award. Or the other way around, maybe you'll want to give them a shout out on your social media or websites. Have them pose with their award. Show the world! You not only have the best-looking awards, but you have the hardest working employees.  
Work Ethic
Although we already discussed there's a clear winner in the awards vs cash debate, it's important to bring it up again. A cash award is not as meaningful. An award will sit atop a workstation most likely. This will remind the recipient of WHY exactly they received the award and they'll want to get there again. It's a physical reminder of the successful month or project that was achieved.  
On the other hand, maybe your other employees also see it and they'll want to work harder to also have that award on their desk but this time with their name on it.  
Set You Apart
The most obvious one yet: customizing your award is, simply put, just better than a generic award. I know, it sounds simple. But believe us when we tell you how often this is overseen. Let's picture two scenarios here: Briana has not only exceeded her quarterly goals but was the top earner on her sales team. Scenario 1: at the end of the quarter, she receives an acrylic slab that says, "Top Earner Fall 2019." Scenario 2: at the end of the quarter, she receives an acrylic award in the shape of a star with her name and title on it above the company logo and motto. Two very similar instances, but which one will make Briana feel prouder of her accomplishment? Which one do you think she'll keep on her desk and which one do you think will get lost in the shuffle on her desk or office? 
Designing your custom awards
There are a few aspects you should keep in mind when designing your award. They're simple, yet important: your brand and your team.  
Your brand
SHOW IT OFF! The recipient of your award has just achieved something great. And correct us if we're wrong, but those who usually meet their goals and reach such achievements tend to be proud of not only the work that they've done but the company they work for. They'll be excited to show off an award that showcases your logo or brand image. Make sure to tell your award representative this: let them know that you'd like to showcase your logo.  
There are plenty of ways to do this. With acrylic being an extremely versatile material, the possibilities are endless. We can showcase your logo by printing, embedding, within a traditional shape. Thinking of something a little more unique? Not a problem. What about creating the acrylic award in the actual shape of your logo? With an incredible art team, they are sure to showcase your brand in a way that means something to you and your team.  
Your team 
While it would be great to create a different design or style of an award for every recipient, sometimes it's not realistic. So, brainstorm a few ideas with your entire team in mind. What will make Kevin in accounting excited to show off his award, that will also be liked by Jessica in sales? Maybe including everyone's name on the award will help it feel a little more their own. Their title is also a nice touch.  
Ordering process
There will be a few logistics that your Altrum representative will likely ask when hopping on the phone or before getting started with some designs for you.  
Is there a deadline?
How many units will you be needing?
What are you thinking in terms of text being displayed on the award?
Do you have any design ideas or themes we should follow?
What budget should we be designing within?
Do not let the above intimidate you, it's alright if you don't have specifics to all of the above. These are typically the bones we start with. For example, if you don't have the word down pat yet, you're fine! It is easy to add later on in the process. 
Time to create a custom award
Using a real-world scenario: our talented team put together an incredible custom award for Earth Day 2020. Since this year is the 50th anniversary, we wanted to create something not only custom but made completely out of recycled materials. Check out how outstanding and meaningful this custom award is. 
With the above in mind, let's get together some custom design options for you and the team. A call is just the start to create awards that will keep your team motivated, while also keeping your company top of mind. Give us a shout and we'll get to the drawing board.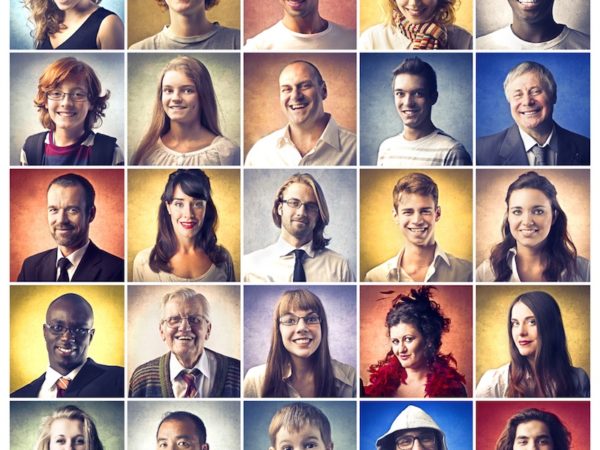 5 Elements To Promote Happiness In A Business
FastCompany published a recent article on the Secrets of America's Happiest Companies. The article compiles the results from the 50 happiest […]
the 4 Elements of Effective Recognition
One of the keys to driving employee engagement is recognition. Everyone needs to be recognized for the work they do. There are a million ways to […]