Corporate Award Ideas for Your Keynote Speakers
October 21, 2020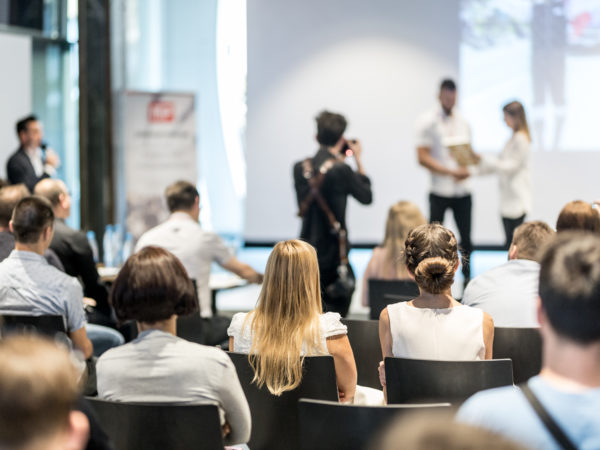 Ideas to create a showstopping corporate award for your keynote speaker. Impress them with a dazzling award that says "thank you."
Corporate awards belong at every event you host. Whether they are employee gifts or for those that help your event be a success; such as a keynote speaker. Having a keynote speaker can be an exciting, yet nerve-wracking element to your event. On the flip side, being a keynote speaker at an event can also be a lot of pressure. Regardless, they can add so much value to your event. The role of a keynote speaker is literally to set the "keynote" for your event. They are responsible for setting the tone. Additionally, their speech will have a theme that resonates with your audience or cause.  
That's not to say your keynote speaker should be a motivational speaker, per se. While they should be inspiring, they should be grounded in the specific context of the event and its participants. A keynote speaker will also most likely be the most exciting part of your event (not that your other segments are boring). But they should be someone that your audience will want to stick around for.  
With that being said, it is important that your keynote speaker gets recognized accordingly. Whether you have decided to send an award to the keynote speaker afterward or present them with the award after their speech at your event, they should receive a physical reminder of the time they had at your event. It is not only a keepsake for them but great remembrance of you.  
Why Give Your Keynote Speaker an Award?
While we think this question applies to everyone in the workplace, not just a keynote speaker, it is important to discuss the "why's" of deciding to gift corporate awards. There are many reasons to present awards in the workplace/events. Ultimately, it makes people feel valued. Let's dive in:  
Awards increase credibility for your company

 

Awards show your approval gratitude for each 

person's

 job – their work gets rewarded 

 

Bring small talk about your company/give you a reason to be talked about

 

Brings honor from the public eye

 

Natural press for you and your speaker or recipient 

 
It's obvious that awards will help people feel recognized and confirm a job well done. But what you might realize, is that there's something in it for you too. As you see above on our list, gifting an award can be great for your company as well. You'll get natural publicity from it. You can release a press release for it or post it on your social media accounts. In turn, your recipient will most likely also post it on their websites and socials. In the end, gaining you more viewers. Sounds like a win-win, don't you think? 
Ideas for Your Award
You might already have some ideas thought up. If you don't, no worries. You are in the right place! Our job is to help you through the journey of creating an idea (or lack thereof) to a product. It's our specialty. 
Before we begin, we would also like to note that we have an excellent gallery curated of some of our favorite award designs on our website which you can scroll through here. In addition to that, we have a Pinterest page where we've added some ideas for your event, as well as post some of our designs.  
1. Keepin
g
it C
lassy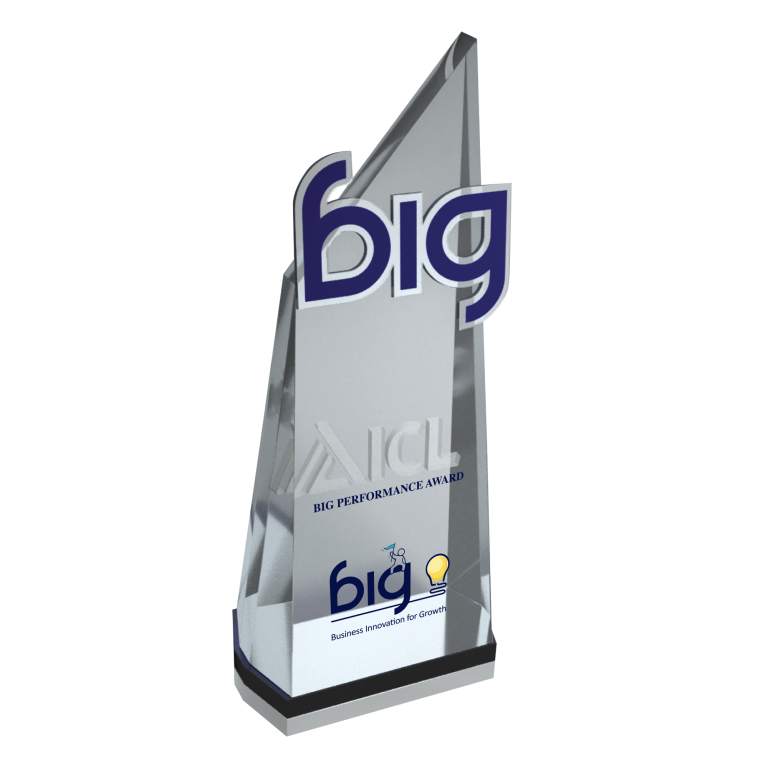 Of our most popular award ideas, the tall crystal truly takes the cake on most ordered. This is a great option if you love the classy/sleek look. Creating a tall crystal award to gift to your keynote speaker is eye-catching. When the lights hit the award up on that stage, the twinkle you see is magnificent. And don't worry, you'll still twinkle in the light of your computer screen since most of us are currently working/hosting events from home.  
With crystal, we can etch anything you like. On the surface, or even cooler, within the shape itself. Here is our gallery of crystal designs we've created in the past. Maybe they'll help with your creative juices.  
2. Logo Inspired 
You can't go wrong with this one. It's marketing 101 for your company! Gifting an award with your logo doesn't have to be all about you. Picture this: an award in the shape of your logo that states "KEYNOTE SPEAKER 2020" with their name. Simple, yet effective. It shows your appreciation for them and their incredible speech at your event, as well as being a reminder to them of the time at your event.  
Most custom logo awards are done with lucite but can be done with any material. This just tends to be the popular option to be able to include specific Pantone colors (which we can make into the lucite) and shapes. Check out some examples from our lucite gallery here.  
3. Functional Award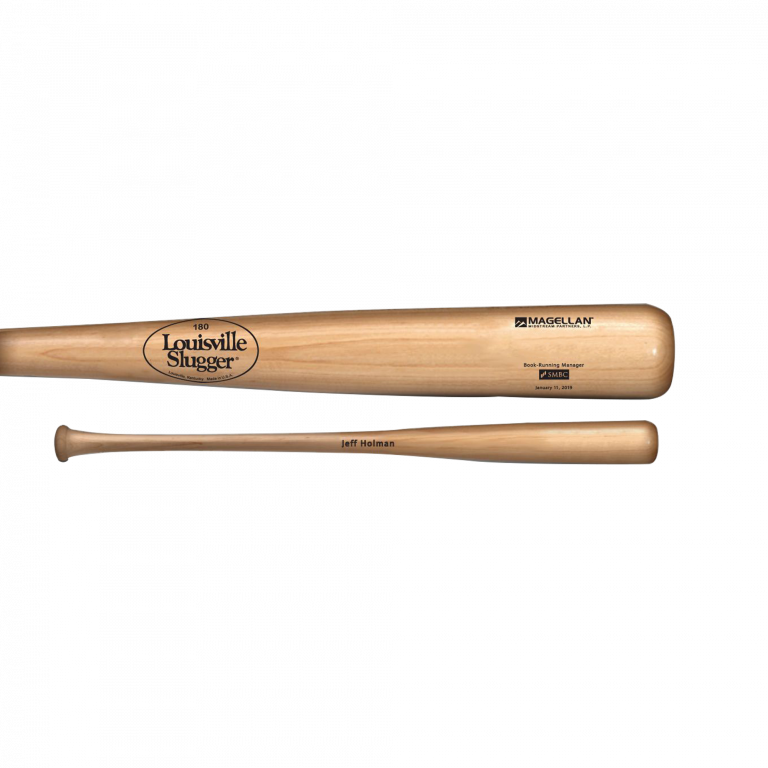 This option tends to be a bit less traditional and a little tricky to nail down, but when it is done, it's completely worth it. Why not create a version of an award that your keynote speaker can use or keep at their desk as a functioning object? We say it can be tricky because you might not necessarily know their hobbies or what they are into well enough to be able to create a custom award that they would use.  
For example, drinking glasses or a decanter with their name or company logo, that also has the event date and name etched on the glass? Or how about a paperweight or a pen holder? Maybe a putter set? Have specific ideas already? Us too! 
4.
Bottle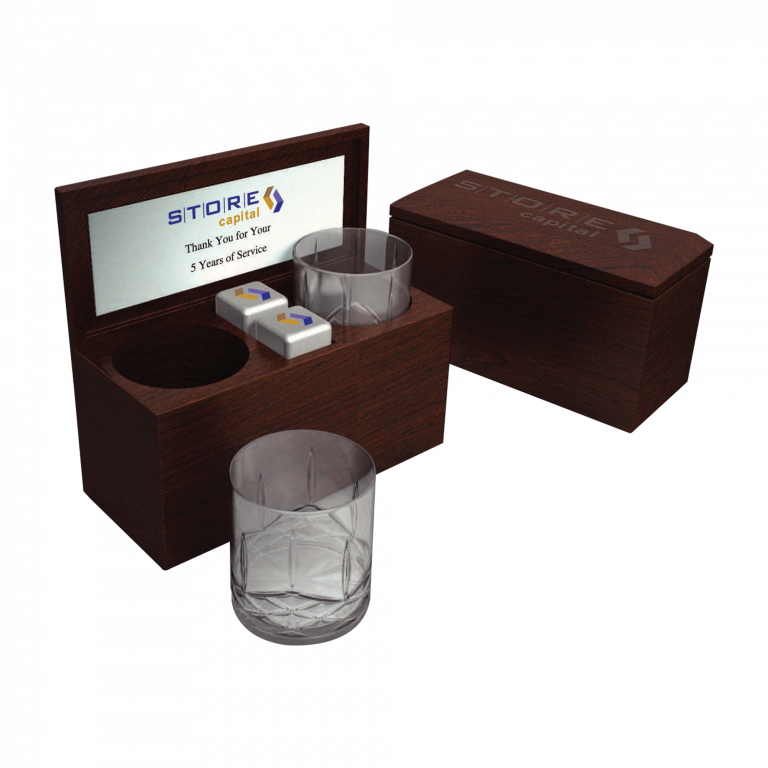 While this might not be the best idea to present at the event, we think it's still a nice gesture. Although you'll probably still want to hand them an award in front of their peers and your audience, why not get an additional bottle engraved and sent to their home? A nice "surprise and delight" always goes a long way. This could go nicely with those etched drinking glasses as well.  
5. A Medal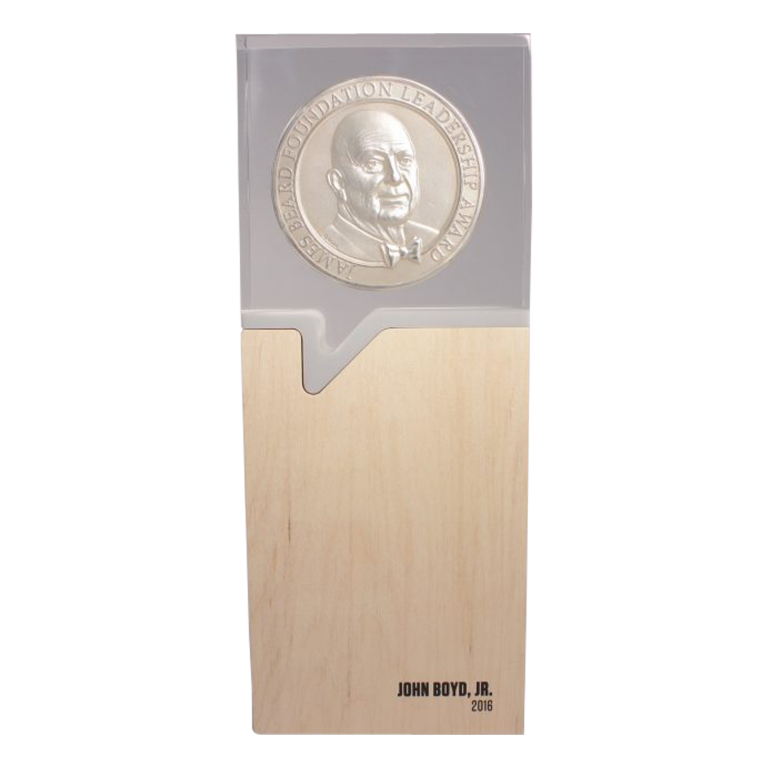 Remember when you were younger, and you got that medal for your 4th-grade spelling bee? Do you remember what a proud accomplishment that was? We're really taking it back here but we've seen a few of our client's order medals as their awards and we couldn't be more excited about this idea. It's quite prestigious really. Sure, you might not be handing it on a string in front of an elementary school, or in front of the top officials in the country at the White House, but it's a different idea that we know the speaker will hold in high regard.  
This award design could always gifted as a token itself, but why stop there? Why not place in a regal wooden box or adjust it on top of a base.
Any Other Ideas?
While these are just a few options we thought of as popular amongst keynote speaker gifts, anything is possible. Some of our best days at work are sitting down and brainstorming new ideas with you. It's a team effort and that's why we love what we do. Helping you celebrate, is what we celebrate.  
Contact us if you have any events coming up that you'll want some awards for.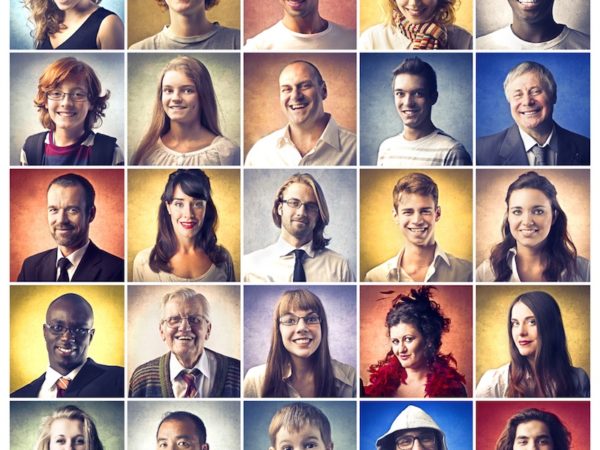 5 Elements To Promote Happiness In A Business
FastCompany published a recent article on the Secrets of America's Happiest Companies. The article compiles the results from the 50 happiest […]
the 4 Elements of Effective Recognition
One of the keys to driving employee engagement is recognition. Everyone needs to be recognized for the work they do. There are a million ways to […]