Award Types by Industry
December 17, 2020
In Celebration / Ceremonies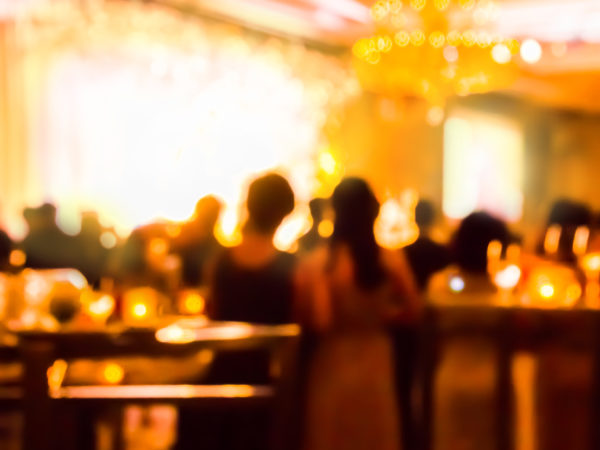 Learn how to create custom awards that will last a lifetime. Whether you have a gala to gift at, or a "surprise and delight" for someone who has reached retirement, let us help you gather ideas and create magic.
Different Awards for Different Industries
From day one, our company has been founded on the ideals of celebration. We are here to help you and your team celebrate and inspire. We do that by helping you create custom awards that not only represent your values but your company and its most important asset: its people.
If you've worked with us before, you know that we do not have a copy and paste approach for your awards. We take our designs very seriously by crafting them for each individual experience. In today's blog post, we will jump into a few topics. But the theme is constant: custom awards. Let's discuss how the process starts and ends and jump into different industries that are rather popular in ordering custom awards.
 Why Awards?
We won't get into too much detail on this one as we've written a few previous pieces as to why awards are so important, so we'll go ahead and link it here with a quick summary. Awards are proven to keep the workplace pumping. They help to encourage growth amongst the individual team members. When designed well, they can influence our behavior; this is where we jump in.
But truth be told, there are hundreds maybe even thousands of different awards your company could host for its employees. Maybe you have your own custom categories or maybe you have your typical "top earner" style. First, you need to decide which is best for your employee's morale; what award will tie back to your values and keep your people motivated?
Once you've got that picked out, you're ready to reach out to Altrum.
Ordering Process
This is where it's beneficial to learn a little bit about our 4 step process. Our standard timing is 6-8 weeks to complete a custom award project from the moment you read out to the final delivery on your doorstep. it is important to note that if you ever need your awards before that above timeline, please let us know and we can make design suggestions that could work within your timeline.
1. Initial Designs
This is the first step. We'll hop on the phone with you and chat a little bit about your company, what you're looking for, etc. This will be a conversation that helps us gather information and inspiration for your first initial designs. After we discuss your project with you, we get to the drawing board.
We start with three initial designs to see what you think. All three will be influenced by our previous conversation. While we are always confident in those three designs…
2. Adjustments
We can always tweak as you need! All of our designs are complementary, so we will not stop until you have the design of your dream. When you're happy, we're happy. So based on your feedback, we can adjust! While the changes might be quick to make, you should still account for a week to two weeks here, especially if you need to get consensus amongst your team.
3. Prototype – optional
This next step is completely optional, but we always recommend it. A prototype is simply piece number one of your order. If you have a large order, we'll just send you the first one so you can see the piece, hold it, feel it, pass it around and make sure everything is good to go.
Once we get the green light from you after the prototype, we'll go ahead and put all of the pieces into production for you.
4. Delivery
After your final approval, your custom awards will be produced within three weeks and delivered to the locations of your choice! Whether back in the office, at a celebration location, or to each recipient's doorsteps, you have plenty of options with us.
With that being said… let's jump into some examples:
Years of Service & Retirement
No matter the industry you're in, these can apply anywhere and certainly are celebrated everywhere. How you choose to celebrate is up to you. Now, we might be biased, but we think an award for such an important milestone is the best gift. They will be able to take a look back and see how far they've come. Just by taking a glance at this award, they'll remember where they started.
Here are a few ideas:
Numerical Theme
Simple, classic, and is a clear indicator of why they received said award. Maybe you gift these out at every 3, 5, 10, etc. anniversaries. So they can see how far they've come! This is a very popular option especially for those who host awards annually.
In terms of retirement, why not make the year of their retirement date, or how many years they've worked at your company. There are many possibilities here.
Stacking Capabilities
We LOVE a stacking option when it comes to awards. We probably try and pitch stackable awards in every possible scenario because we just love them. As mentioned above, this is a great option for years of service/retirement because of the "growth" factor. Not only will you grow as a professional, but your physical piece will be an embodiment of that growth.
Sports and Gaming Awards
These are, without a doubt, the more intricate award styles we deal with and we wouldn't have it any other way. The thing about sports and gaming awards is that there's a great deal that goes into them. Yes, on the recipient's side, but we're specifically thinking about the 4 step process. It's not just going to be a logo or a colored crystal. Some of these examples just speak for themselves.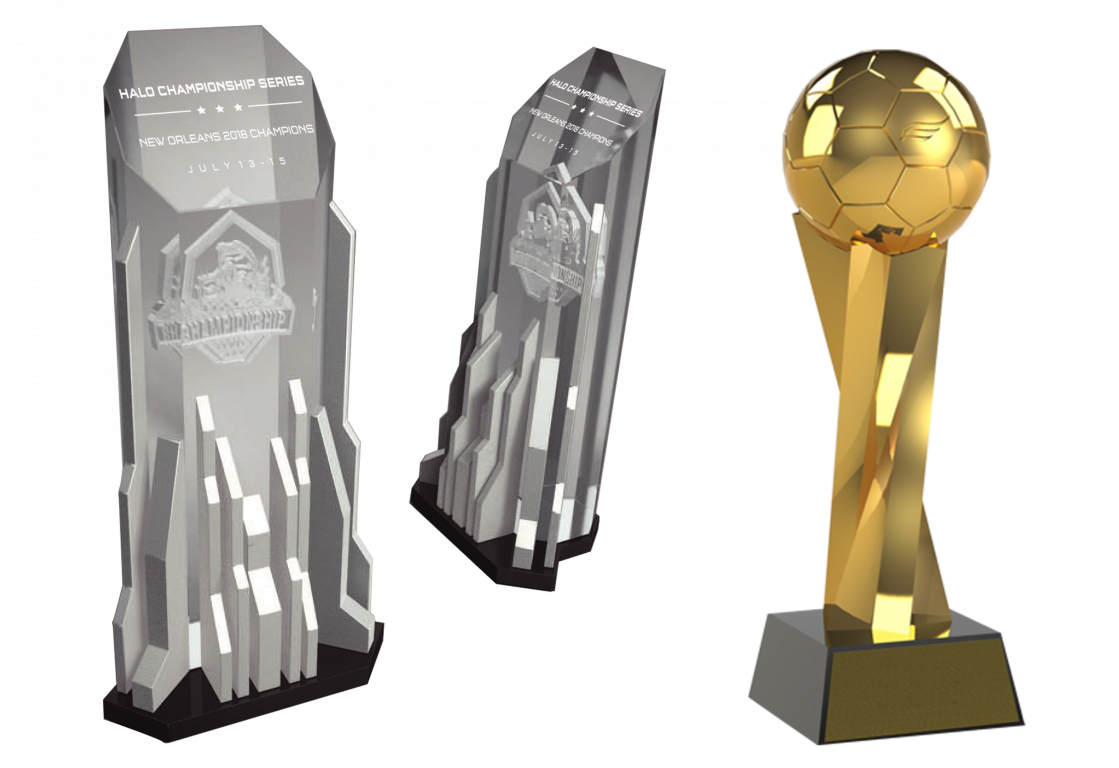 Charity/Volunteering Awards
Gala's, fundraisers, volunteer events – we've got you covered. Without a doubt, awards are most popular at these sorts of events. At the end of these galas and fundraisers, there are always a few people awarded for their philanthropic efforts or achievements.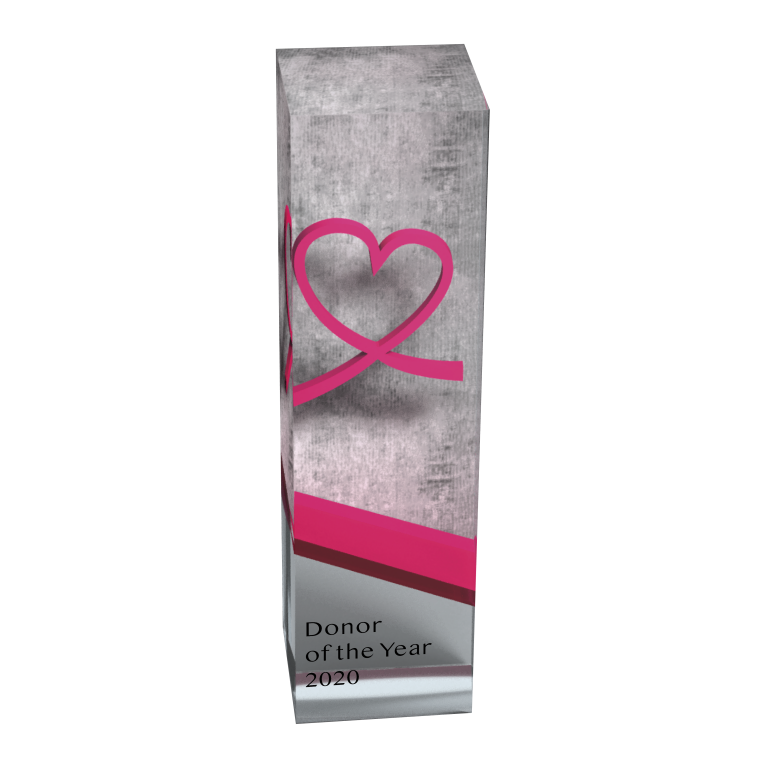 Industry Specific Awards
Let's dive deeper here: there are a couple of specific industries that we also see a lot of, so we wanted to make sure they were mentioned as well.
Health Care
SO MANY HEALTHCARE AWARDS! We love to see it, we really do. With the current situation happening all over the world, we appreciate them more than ever. The cool thing about healthcare awards is that it's a forever sort of industry. Meaning, if you are in the healthcare industry it is more likely than not that you will stay within that industry for most of your professional career.
Real Estate
With real estate, come a lot of "welcome" awards, top earner awards, most sales, etc. So, we've caught on and decided to throw real estate into the mix of top industries. With Real Estate awards, it's fun to play around with functionality. For an industry that is extremely "on the go," some awards have multiple purposes. Yes, it's to celebrate its recipient, but what about also being a business card holder?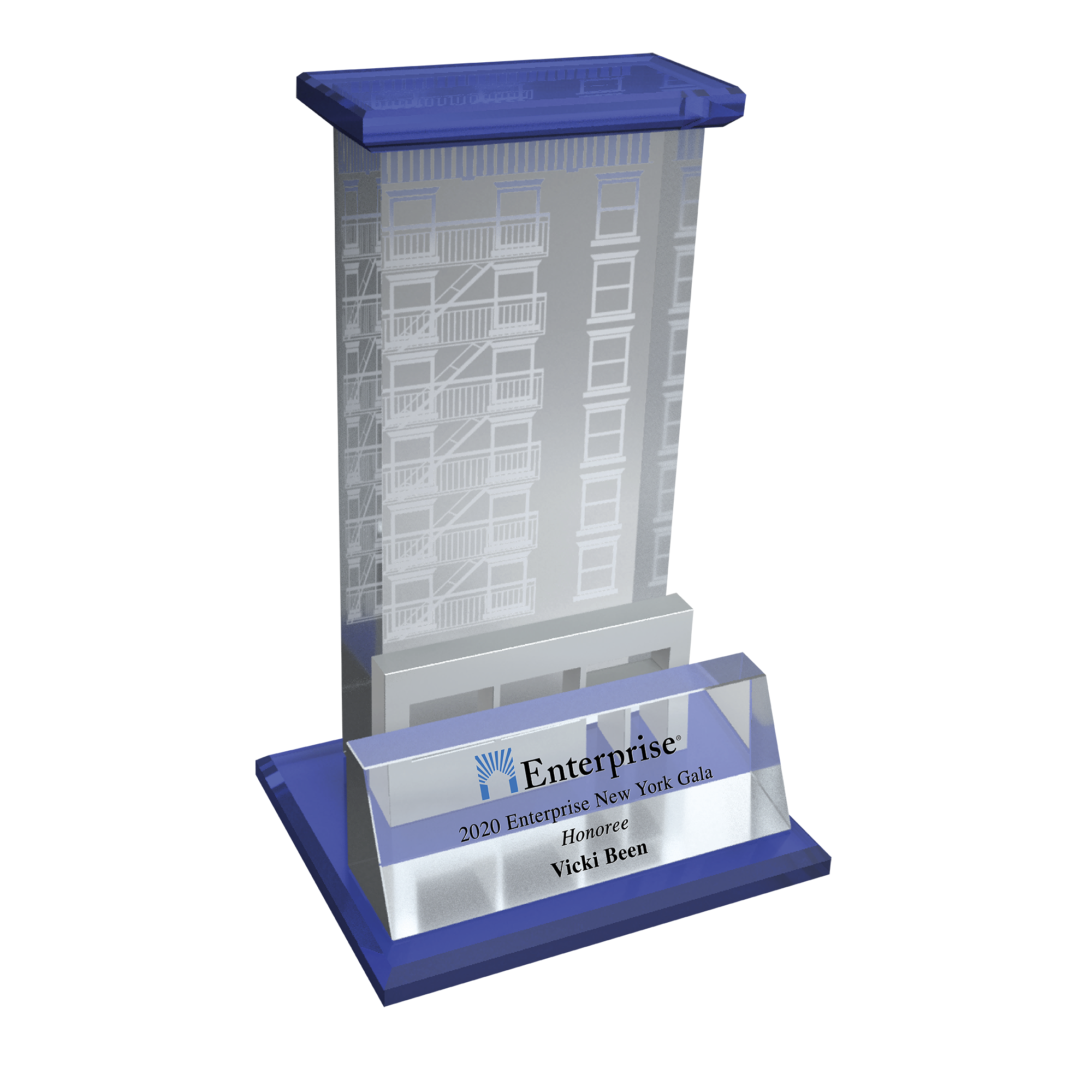 Education
We're sure you already have an educator in mind to who you would wish to give an award. Every single teacher deserves an award! From shaping the world via students, to having to adapt to virtual learning, they are truly are heroes. While the same could go for teachers on the functionality route, it's incredible to get personalization here.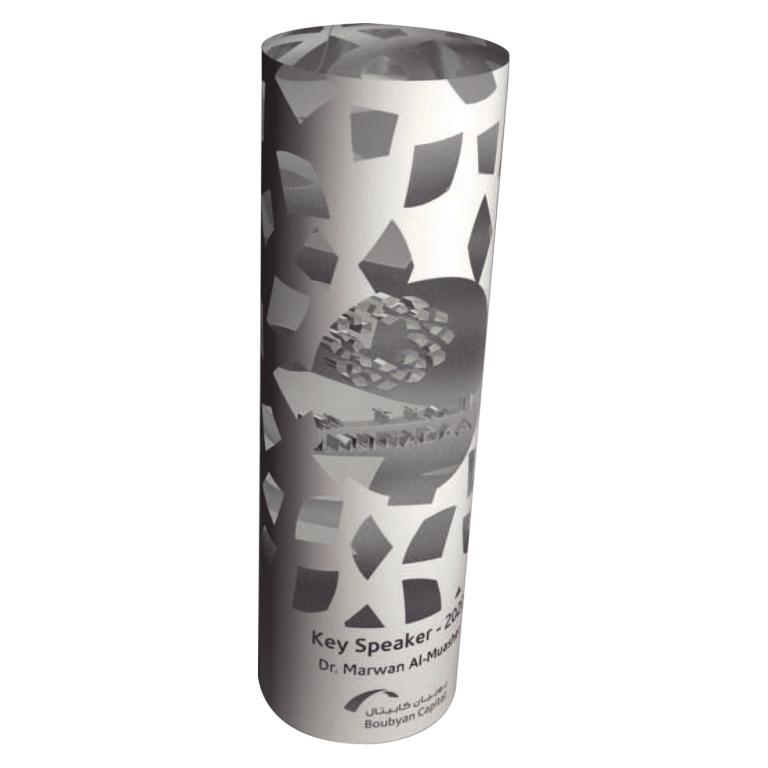 Your Turn to Try our Custom Award Process
Now that we've given you some ideas, let's see what you can come up with. Contact us and we'll go through our 4 step process together and get you some amazing custom awards to your doorstep.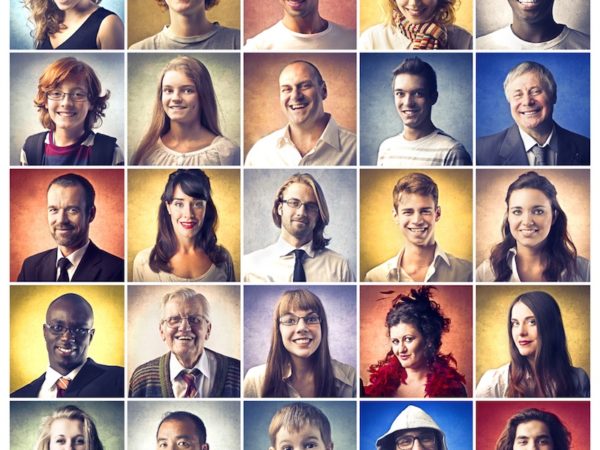 5 Elements To Promote Happiness In A Business
FastCompany published a recent article on the Secrets of America's Happiest Companies. The article compiles the results from the 50 happiest […]
the 4 Elements of Effective Recognition
One of the keys to driving employee engagement is recognition. Everyone needs to be recognized for the work they do. There are a million ways to […]