Treasure Hunt
Portfolio
November 2, 2018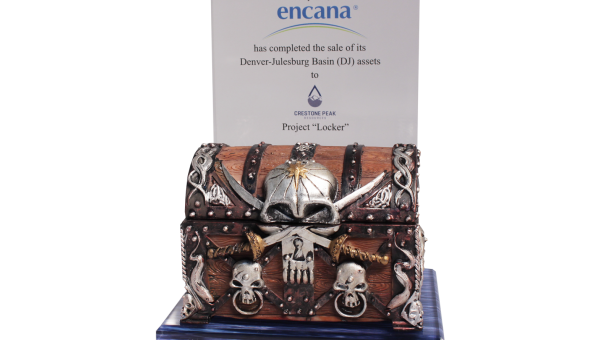 Ovintiv Corporation (previously Encana) is a Canadian natural gas company that produces, transports and markets natural gas, oil and natural gas liquids. Following the sale of one of their assets, the company wished to celebrate their milestone and recognize the deal team with a custom deal toy.
The project code "locker" was the focus of the brainstorm session. The teams found many ideas that would link the project code, the essence of the deal and the company's image into an aesthetic creation. The idea that clicked most revolved around a pirate treasure chest.
The Altrum team first ensured that the elements of the deal had been organized elegantly on the tombstone. We chose a transparent Lucite plaque on which to lay out the text, and a Lucite base that would host the centerpiece; a detailed treasure chest. The team customized the base of the deal toy with an image of ocean water to resemble the view from a pirate ship.
The client was thrilled with the final product and the speed at which the project was completed. Ovintiv had a large event to celebrate the transaction, at which the deal toy was distributed and much appreciated!
Winter Wonderland Deal Toy
Our client was looking to celebrate a deal for a Utah-based ranch and distillery. The property is known for its luxurious amenities and splendid […]