Project Scrabble
Portfolio
November 1, 2018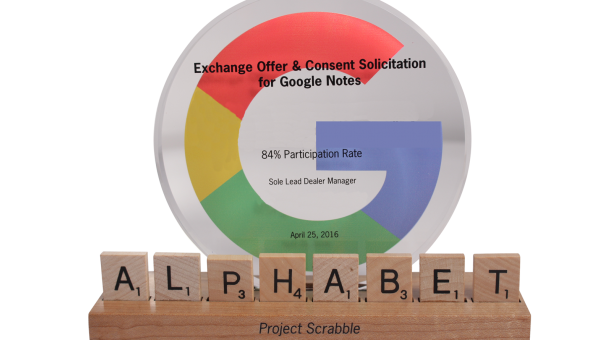 Our client came to us seeking a deal toy to celebrate Alphabet's recent transaction. Alphabet is the parent company of Google, Nest, and several other companies previously owned by Google. The deal team asked for Altrum's guidance in order to create the perfect deal toy.
The first element to take into consideration was the Google logo. Being the Alpha "bet" of the company, our client wanted to be sure to incorporate it in the deal toy design. Altrum Honors recommended a circular shape, to best match the "G" logo, to create the space necessary for a visually pleasing effect and to write the deal tombstone.
Secondly, it was requested that the project code name, "scrabble," be reflected. This design element really came to life by placing actual scrabble pieces on the wooden base in order to spell out the company name "Alphabet".
The materials were chosen with the recipient in mind; a mix of shimmering crystal and natural wood to exhibit the fun and modern culture of Alphabet, making sure the deal toy would complement the office décor nicely.
The client was very pleased with the deal toy design Altrum created for them. A deal toy celebrates a transaction, but also the bond financial institutions have with their client; the symbolic elements integrated in the financial tombstone succeeded in conveying the shared accomplishments of the deal team.
Winter Wonderland Deal Toy
Our client was looking to celebrate a deal for a Utah-based ranch and distillery. The property is known for its luxurious amenities and splendid […]