Checkmate
Portfolio
November 2, 2018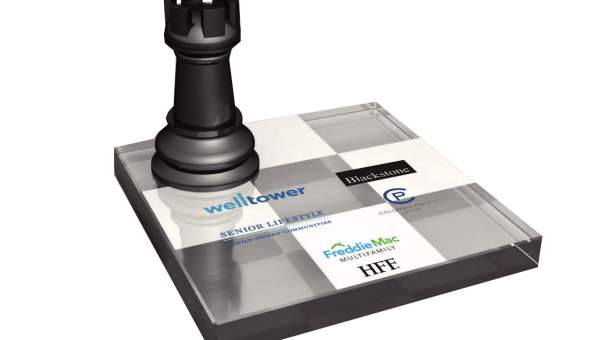 The client came to Altrum looking for a deal gift to celebrate a Real Estate investment in the senior living industry. The client was looking for a tombstone to illustrate company pride, promote their brand, and express the success of the deal in a classy way.
The idea for the concept of a chessboard and rook (castle statue) came from the company's name – Welltower. The rook is an illustration of the company's brand and symbolizes solidity and strength. Made of black crystal, the symbolism is further reinforced by the weight of the piece.
The chessboard represents the strategic deal completed by the company, and implies the deal participants were the triumphant players. With the financial tombstone printed on top of the crystal square, the deal team is put under the spotlight without disclosing any sensitive information.
The client was extremely happy with his deal toy design. They praised the quality of the materials and the creativity of the concept. The deal toy was given to the deal team at a closing dinner to celebrate their success.
Winter Wonderland Deal Toy
Our client was looking to celebrate a deal for a Utah-based ranch and distillery. The property is known for its luxurious amenities and splendid […]