Home Run
Case Studies
November 2, 2018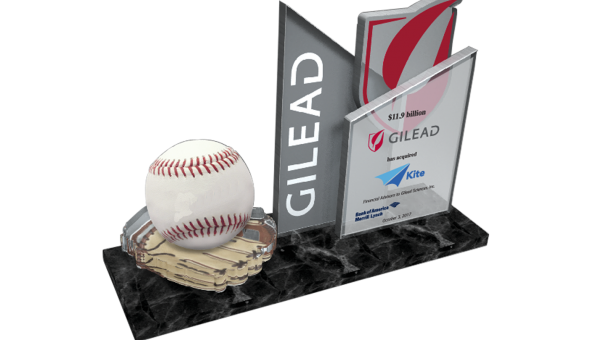 Gilead Sciences is an international biopharmaceutical company that discovers, develops and commercializes innovative therapeutics in various sectors. In 2017, it made headlines worldwide for its acquisition of Kite, a biopharmaceutical company engaged in the development of innovative cancer immunotherapies. Considered one of the best M&A deals of 2017 by Nasdaq, Gilead's acquisition of Kite turned heads due to the size of the transaction and future potential of the mega-firm. Of course, such a deal calls for a deal toy worthy of its renown.

To celebrate this transaction, the team wanted the design to represent a sophisticated hybrid of the project name (Dodger) and the acquirer's branding (Gilead). First, Altrum suggested a classy black marble base as the foundation to link each part of the deal toy. To honor the Baseball team that served as code name during the project, the team created a custom baseball glove in acrylic, on top of which rests an original Dodger's baseball.
For the tombstone, Gilead's advisors selected sleek crystal shapes, connected by a custom crystal logo to create an overlapping formation, and increase the depth effect. The deal tombstone is at the forefront and the Gilead name is prominent on the third layer of crystal.
The deal toys were sent to San Francisco and given out to the clients, investment bankers, lawyers and other deal team members who played a part in the transaction. Everyone was touched by the significance of the deal gift, and proud to display such an important career milestone in their office.
Winter Wonderland Deal Toy
Our client was looking to celebrate a deal for a Utah-based ranch and distillery. The property is known for its luxurious amenities and splendid […]