A Year in Review: Design Edition
February 9, 2023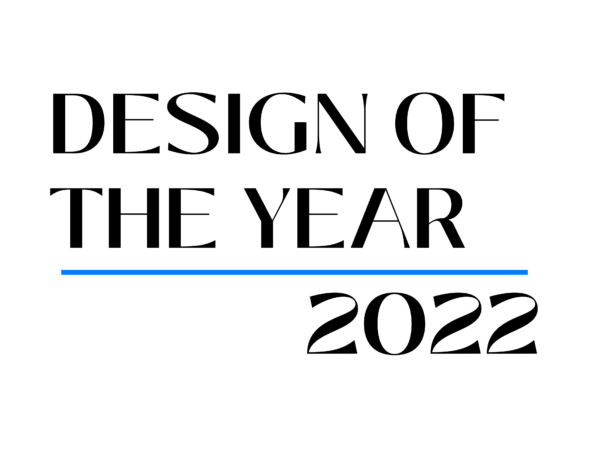 What was your New Year's Resolution? Here at Altrum, ours was simple; celebrate and inspire. Every 365 days, we like to look back at the year behind us and reflect on how we did just that. With clients all around the globe, we supported over 11,000 transactions: celebrating and inspiring over 220,000 people. The designs from 2022 ranged from classic and elegant to quirky and interactive; every day was something new and exciting for our designers, bringing your visions to life!
We picked our favorites, but we wanted to hear from you to find the best of the best. From December 26th to December 30th, we put the ball in your court and asked you for your vote on Instagram! The top designs from 2022 featured some of our most popular materials.
Whatever material you choose for your deal toy, it is our mission to make it meaningful and memorable.
Acrylic
Acrylic is one of our most versatile materials, so it is no surprise that our winner for Design of the Year is in this category! In fact, multiple of our favorites this year were made with acrylic and produced right in house at our factory in Canada. We can produce intricate custom cuts and shade match acrylic to any logo color you need, making acrylic designs a great bespoke option. Depending on your location, choosing acrylic can lower your shipping costs. Another benefit? Every location receives carbon neutral shipping.
Acrylic can be transformed into anything your heart desires, simple and classy or full-blown product replicas!
On the right, our team used red acrylic to recreate a custom shopping basket, and clear acrylic for the products inside of the basket. For dimension, we added in another material by making the handles out of aluminum to give the piece some shine. These handles are also fully functional! You can prop them up or leave them down. If there is one thing we love, it's a functional design.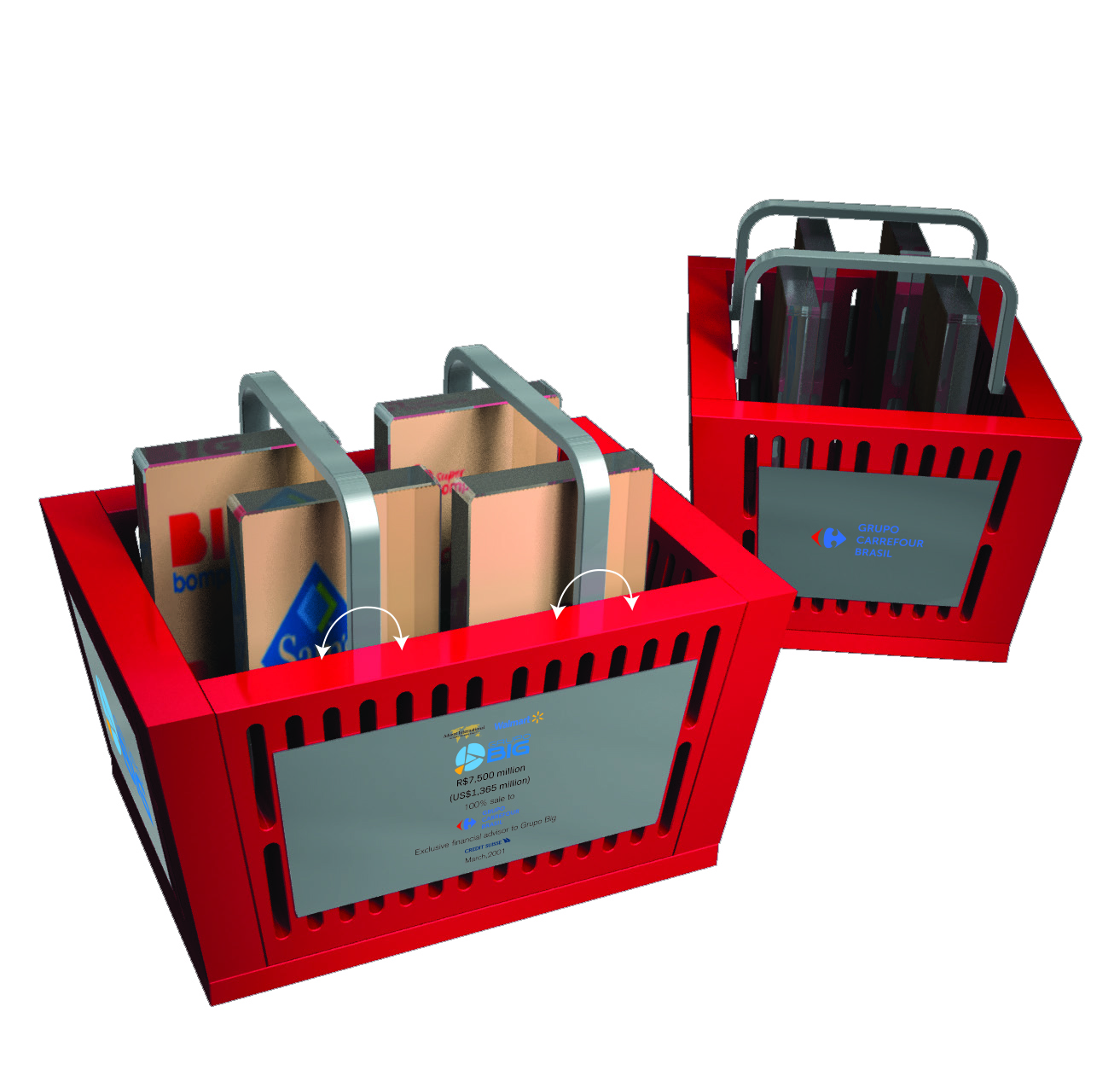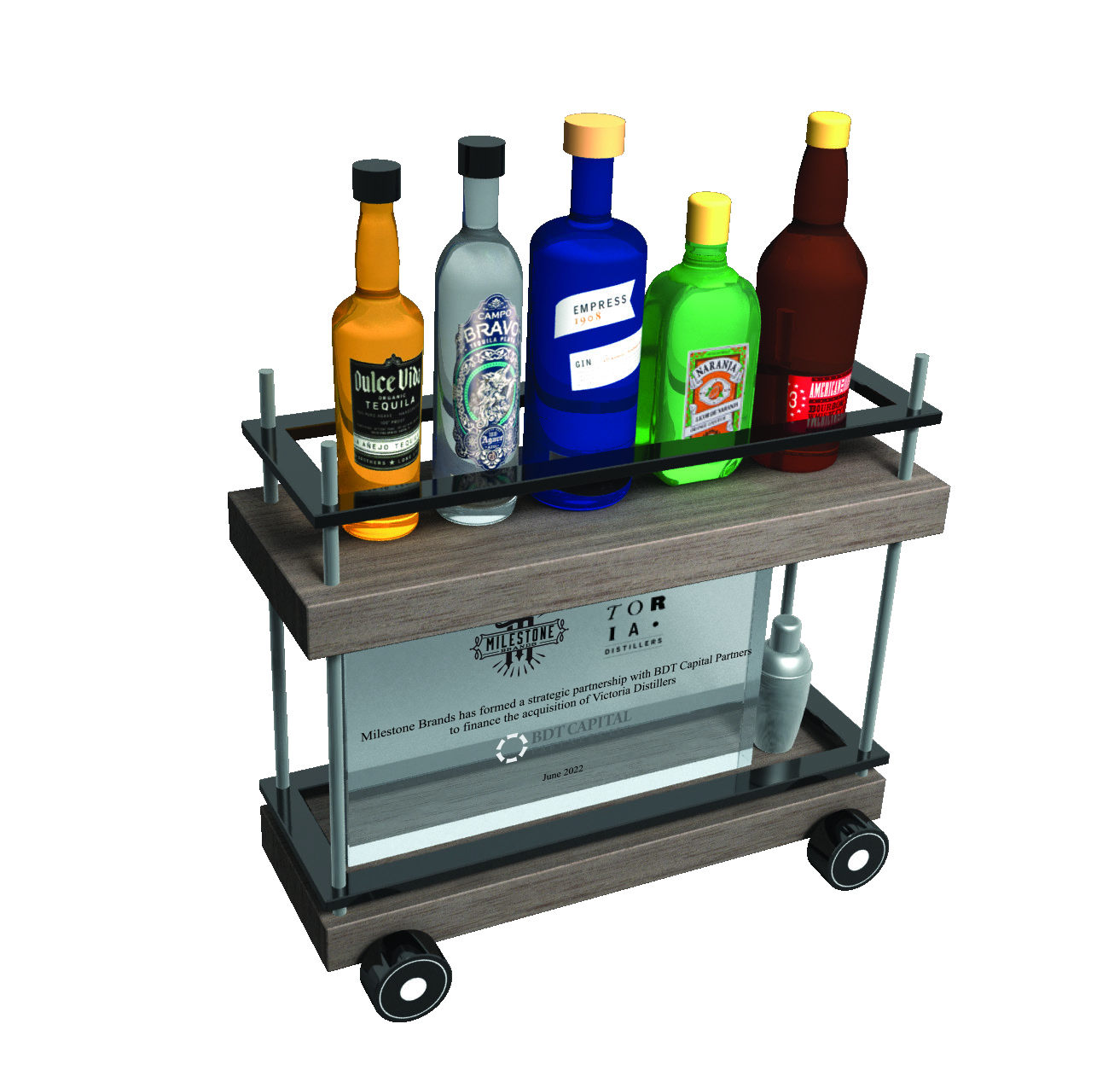 Here we have the official winner for 2022 Design of the Year! We asked, and you answered. Acrylic was utilized to create custom mini liquor bottles, featuring a transfer print technique to make them look exactly like their life-size counterparts! Add in some black acrylic wheels and you have yourself a fully functioning mini bar cart. Liquor sold separately, of course.
Deal toys look great on desks. We all know this! Why not use acrylic to create a faux tape dispenser that rotates in the center like a real one?
You name it, we can make it in acrylic. This is one of our most versatile materials yet, while also being environmentally friendly and easy to ship, straight from our factory in Canada.
Crystal
So, you want something shiny and sleek with a nice weight to it? Crystal, you're up!
Crystal designs are a fan favorite. These pieces are elegant, timeless and have different capabilities than acrylic.
We can create intricate 3D etches inside of crystal pieces, giving your deal toy an ultra-customized touch. These pieces are mostly shipped from our factories overseas in Asia, but we can work with crystal domestically as well in some cases.
Can't convince your boss to let you have a real fish tank in your office? No problem. We can make you a deal toy that rivals the real thing, just like we did with this project. With a crystal center piece, we can 3D etch a fish inside, giving your desk that "Under the Sea" touch you were looking for.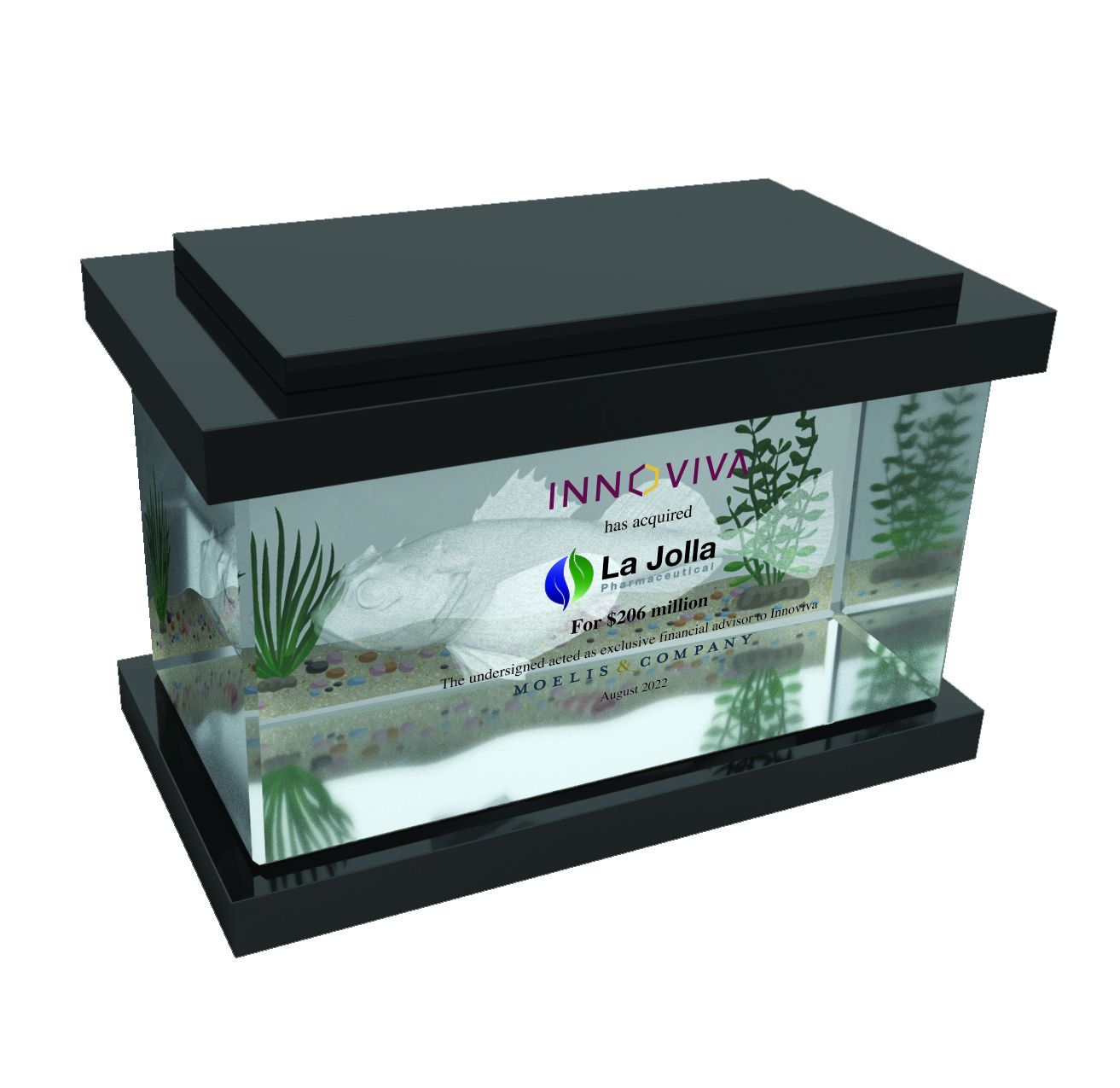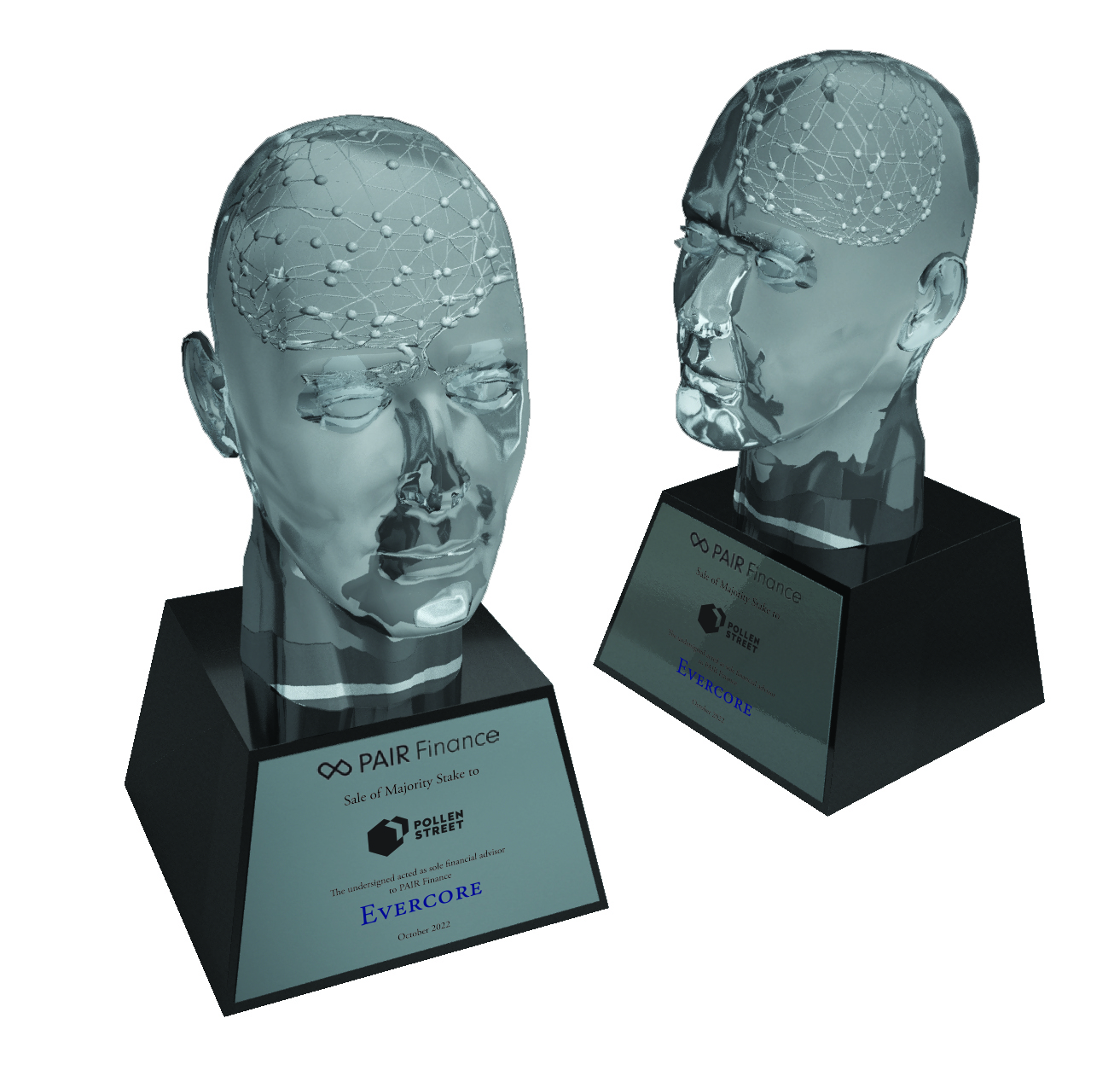 If you're not into regular geometric shapes and want something more custom, crystal can also be moulded. Here you'll see just how custom we got for this project, with a head made completely out of crystal and a 3D etch of brain connections inside.
This one is one of our favorites of the bunch, showing just how well crystal looks with other materials. Here, we mixed crystal with 3D resin prints. Those headphones and books on the left? Completely custom printed and one of a kind, with a crystal iPhone replica on the right.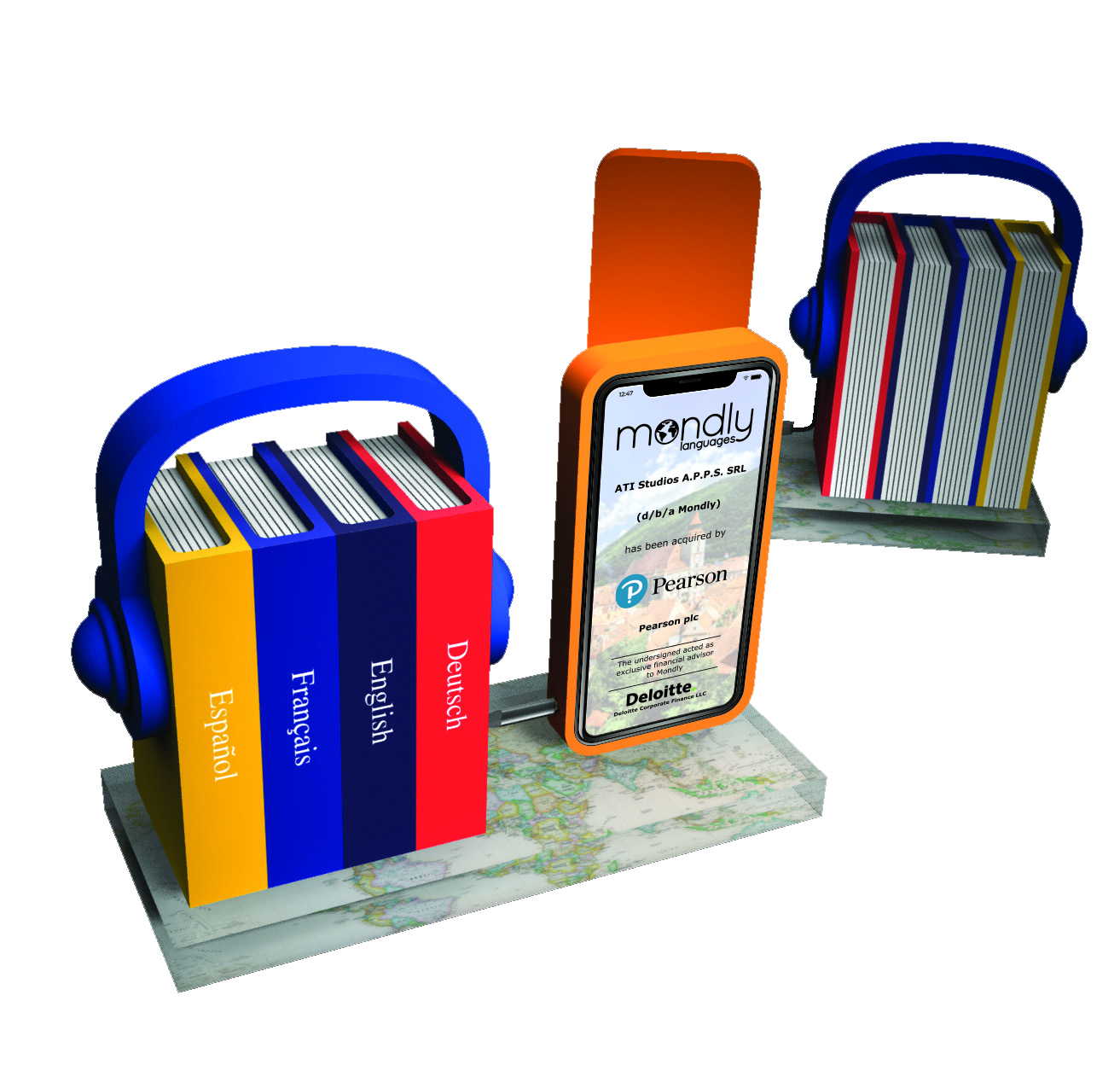 If you have some extra room in your budget and you're in the market for a custom deal toy that that will not only wow your office but your clients as well, we recommend considering crystal!
Wood
If you've worked with acrylic and crystal before and want to impress with a new material…, may we present to you, deal toys made with wood.
A wooden deal toy has a special kind of charm – the warmth of the grain and unique craftsmanship highlights an entirely new class of deal toys. Another plus, wood works great in conjunction with other materials, making it one of our post popular additions to designs.
Whether the entire piece is made from wood, or you incorporate wood aspects throughout the design and mix materials, we promise that it's sure to wow. Working with wood gives designs an entirely new feel, elevating what was already a cool piece to something extra meaningful and intentional. Something else we love about wood is the weight – weighing a bit lighter than some other materials, this is a great option for international clients who want to save on shipping costs!
One of our favorites from this year aimed to recreate the feel of a basketball court. This is a great example of how wood plays nice with other materials. The backboard, hoop and stand are custom acrylic pieces. Add in the natural maple wood base and this piece turns into something extra special, tying in real wood to mimic a court floor.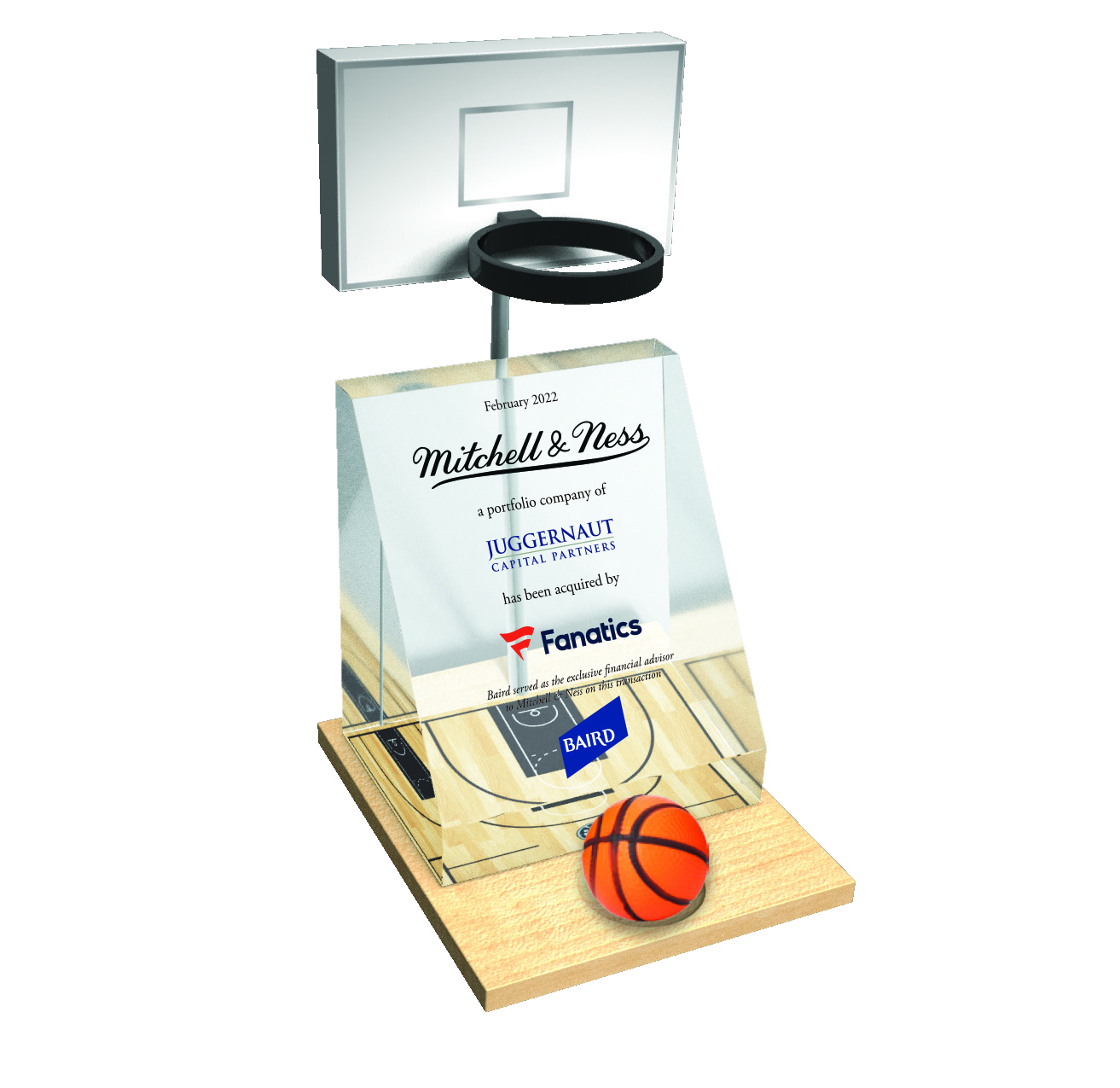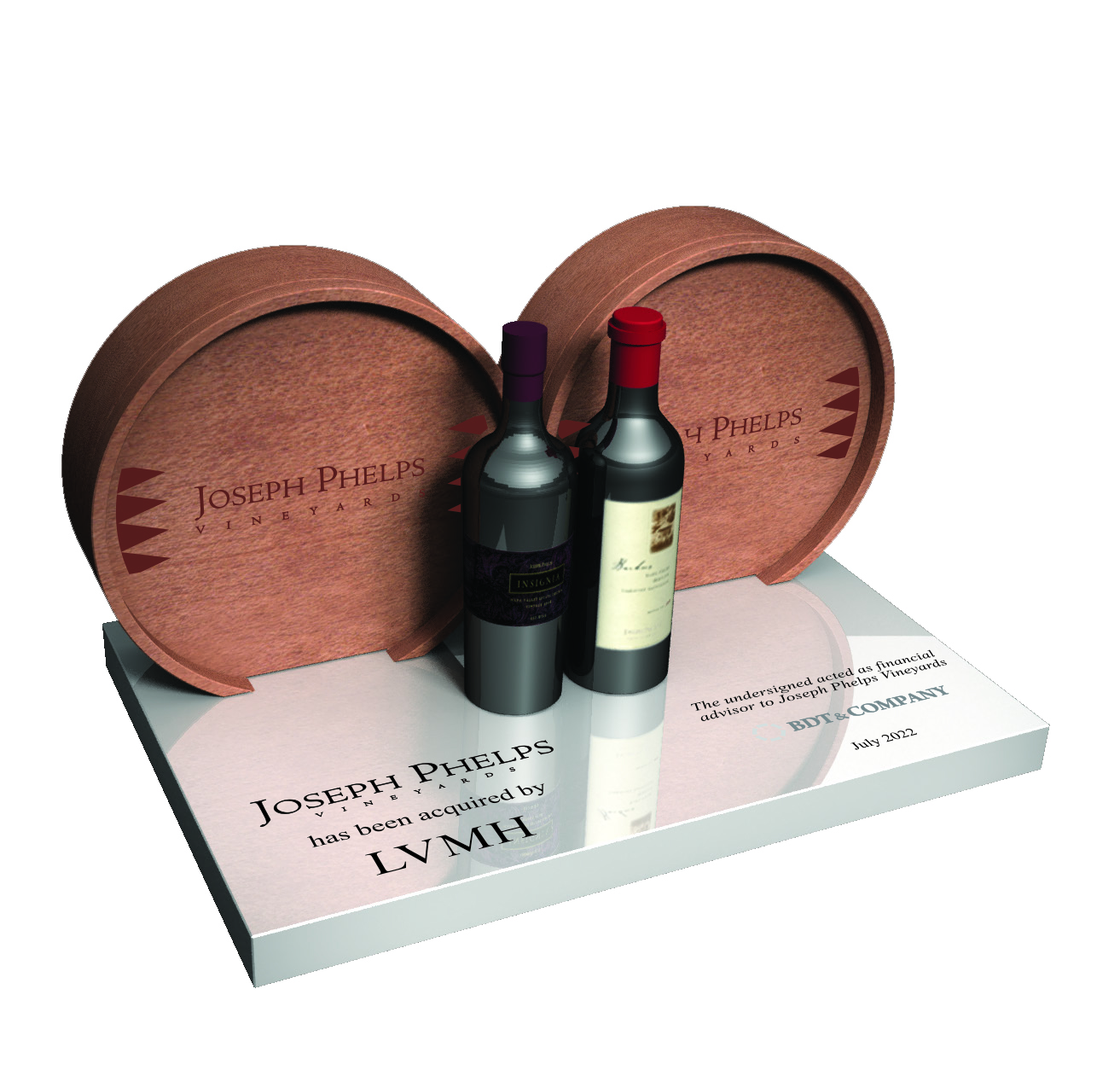 We've seen quite a few wine bottle designs, but never have we seen something like this! Talk about committing to the vision. We custom cut pieces of wood to look like real wine barrels, adding the company logo on the front to give it a true replica feel.
This next one works perfectly with a wooden base. Our client wanted to go with a woodsy forest theme. By using a wooden base it ties everything together and brings this layered piece to life, giving it extra soul and charm. A true match made in heaven!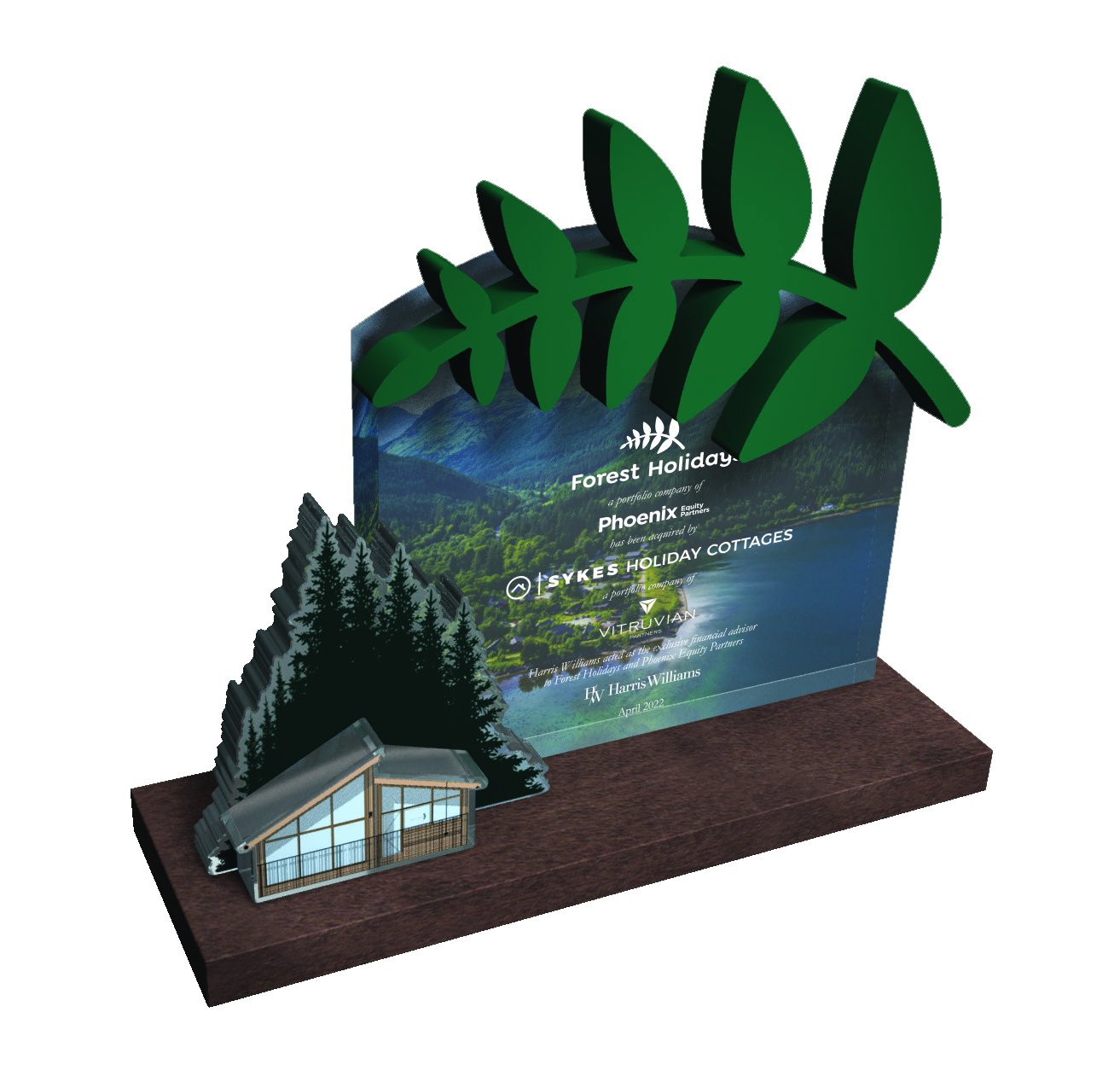 Custom financial tombstones design ideas are limitless
If you can dream it, odds are, we can make it! No imagination is too big for Altrum, and our favorite designs of 2022 prove just that. These are only a few of the designs that were in the running for Design of the Year, and highlight only a chunk of the materials we are capable of showcasing. From metal, stone, and outsourced items, the possibilities are endless. Stay tuned for further information on all materials we offer at Altrum.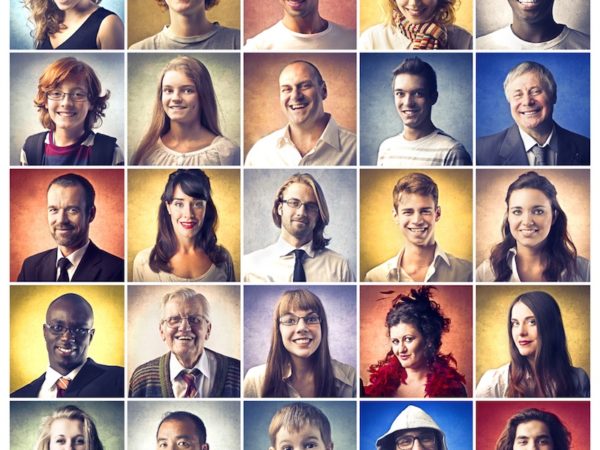 5 Elements To Promote Happiness In A Business
FastCompany published a recent article on the Secrets of America's Happiest Companies. The article compiles the results from the 50 happiest […]
the 4 Elements of Effective Recognition
One of the keys to driving employee engagement is recognition. Everyone needs to be recognized for the work they do. There are a million ways to […]