20 Custom Trophy Ideas to Dazzle Your Recipients
August 17, 2020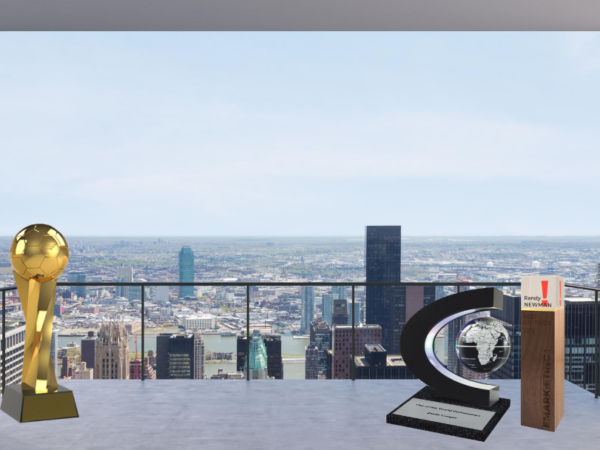 Who doesn't love to show off a little? We know we do! And we're sure you do too. When ordering custom trophy awards for your team, business partners, colleagues, keynote speakers, etc, you want to wow them, correct? We've accumulated a few design aspects that we know our clients tend to say "wow" to.  
First things first, this could not be done without our talented team of artists. They have attended some of the best schools in the world and truly live their craft day in and day out. Not only are they artists that shine in the workplace, but outside of work too. They can draw inspiration from everything around them. Altrum would be nothing without or team of artists, so check out some of their dazzling work throughout this blog post. We're sure you'll be as impressed, as they are talented.  
1. 3D Etch
This, as you can see, is a very classy option. It is also an extremely popular option. A 3D etch is cutting edge technology where we use multiple lasers that meet in the middle of a crystal shape to create small scratches within, which then creates an image within. An almost holographic image will appear in the middle of your award – this will be certain to dazzle its recipient.  
To note with 3D etching, this can only be used with a crystal design. When deciding on your custom trophy design, also keep in mind that we have several different colored crystal options! You read that correctly, it doesn't just have to be clear. We have different options such as jade that shows a light green hue within the crystal that is also very popular, for example.  
2. Metal Detail
Including metal aspects into your award ideas is certainly a way to wow your recipient. Most people are used to the typical acrylic award in the shape of a star. It's not often you receive an award with a slab of metal incorporated in it. Maybe using some copper, stainless steel, brass, aluminum, iron, the list goes on! 
Some popular ways of using metal include something as simple as a base, but why stop there? Metal can be cut within, to show details behind it. Such as the awards you see here: cut-outs are extremely popular.  
3. Light
An custom trophy that lights up… great, now that we have your attention. Yes! This is certainly something we can do and have done in the past. While it's important to most to keep a classy and sleek look on their awards, it never hurts to add a dazzling detail.  
By incorporating light, we usually add it to the base so that it shines through to the top of the piece. We add a bulb that can be turned on and off with a switch. Talk about fancy!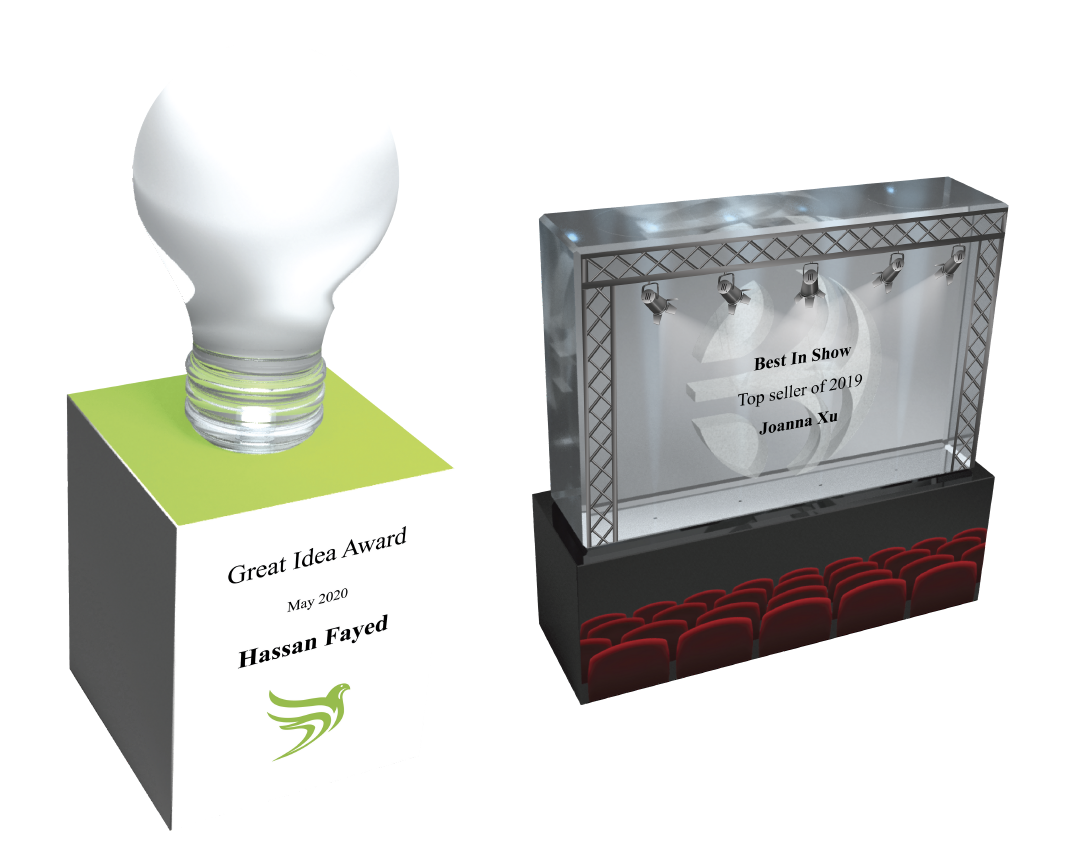 4. Sound
Speaking of fancy: we can also include a soundbox within your design. This option is usually used when wanting to incorporate a song within the award. Or maybe you have a message you want to share why not record yourself and use that as well.  
What our talented group of artists will do is create a base or a part of the design that is thick enough to hide the soundbox. As you can see (and hear), the possibilities truly are endless when it comes to showstopping award ideas!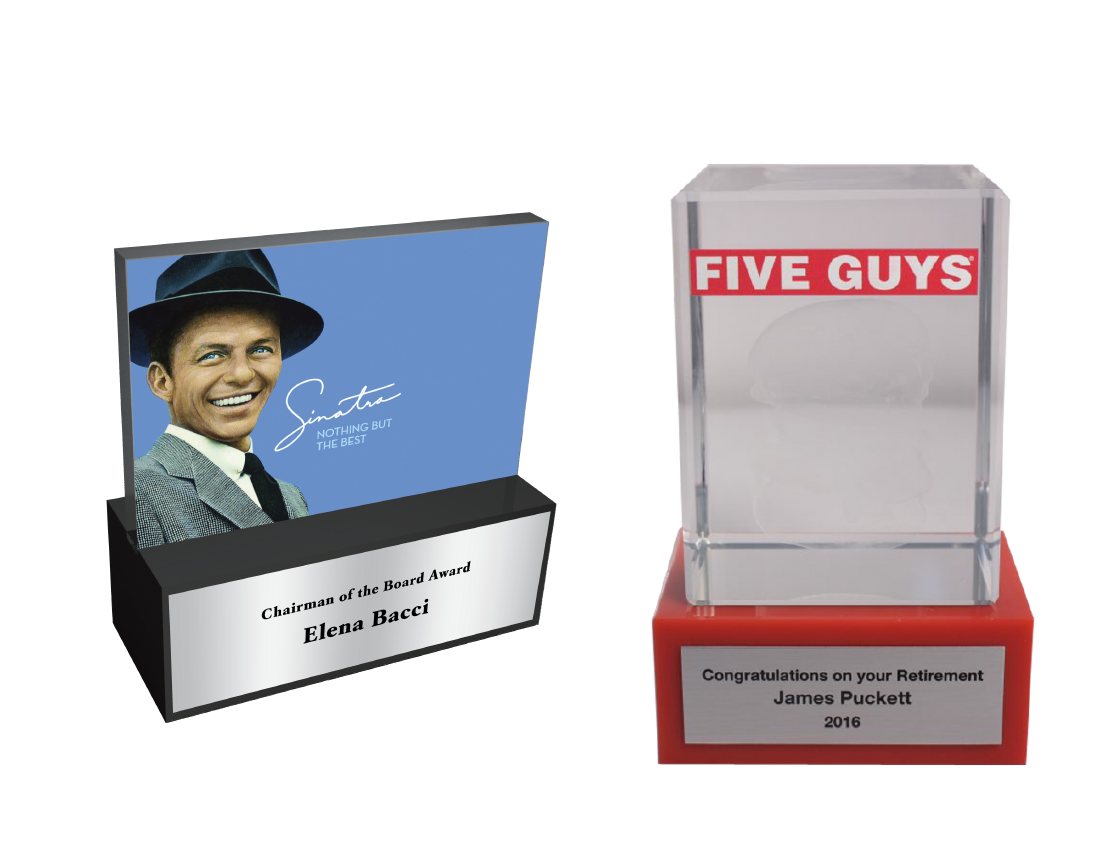 5. Stackable
One of the more popular award ideas: creating something that's stackable. When doing this, we create designs that are based on the idea of accumulating in the future. Maybe your piece will stack for every milestone year, or maybe you'll want it to stack for every promotion or award you intend to give out.  
Regardless of why you want to add onto the main piece, we'll make sure to show you what it will look like by including the stacked pieces either on the main piece itself or pictured off to the side.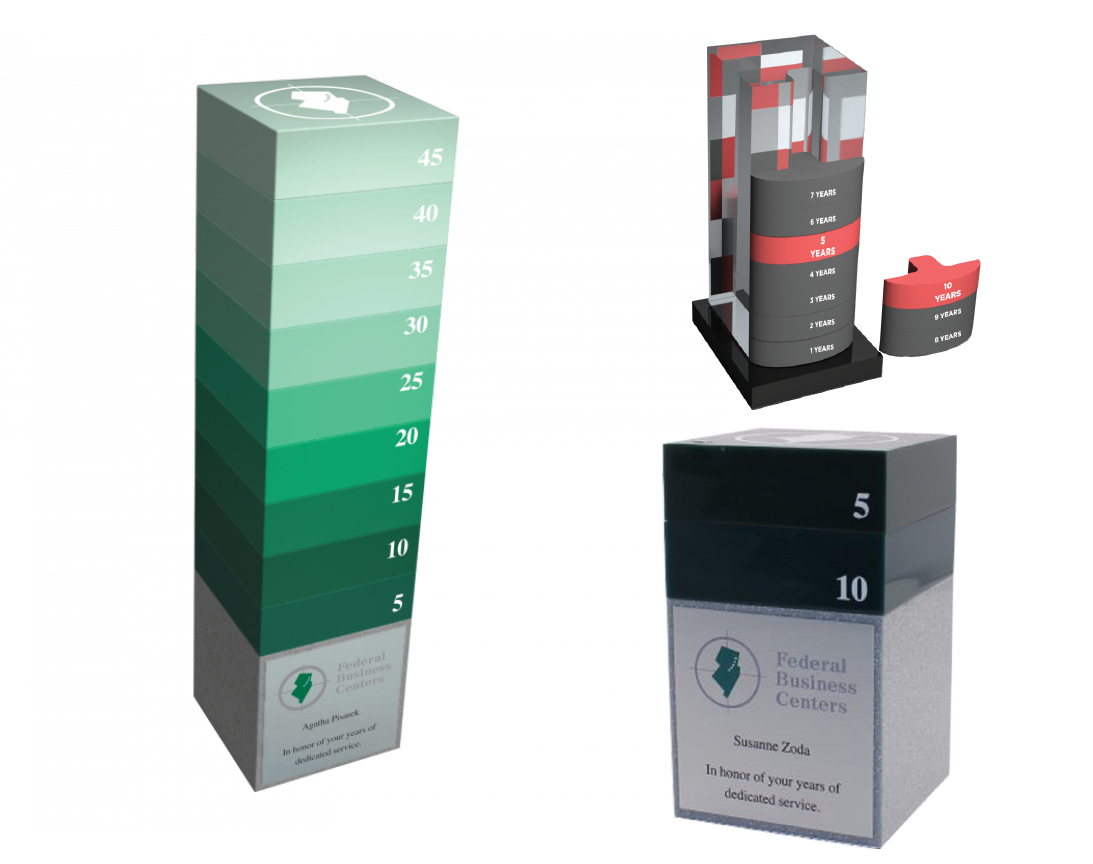 6. Personalized
We'd like to point out that you can probably do this with every award on this list! But "personalization" itself needed a spotlight of its own. There's something quite special about receiving an award, but there's something so incredibly momentous about receiving an award with your name on it. It's not just your run of the mill, copy and paste award that you buy online, it was made with care and made just for you.  Now, that's a custom trophy!
To gift an award that was made personally for someone else holds a lot of importance – not only to them but to you too. It shows that you took the time to acknowledge them and to appreciate the hard work or moment they have achieved. You can write a message, name, date, or goal on the said award. Either way, we think that personalization is a great add on to any award.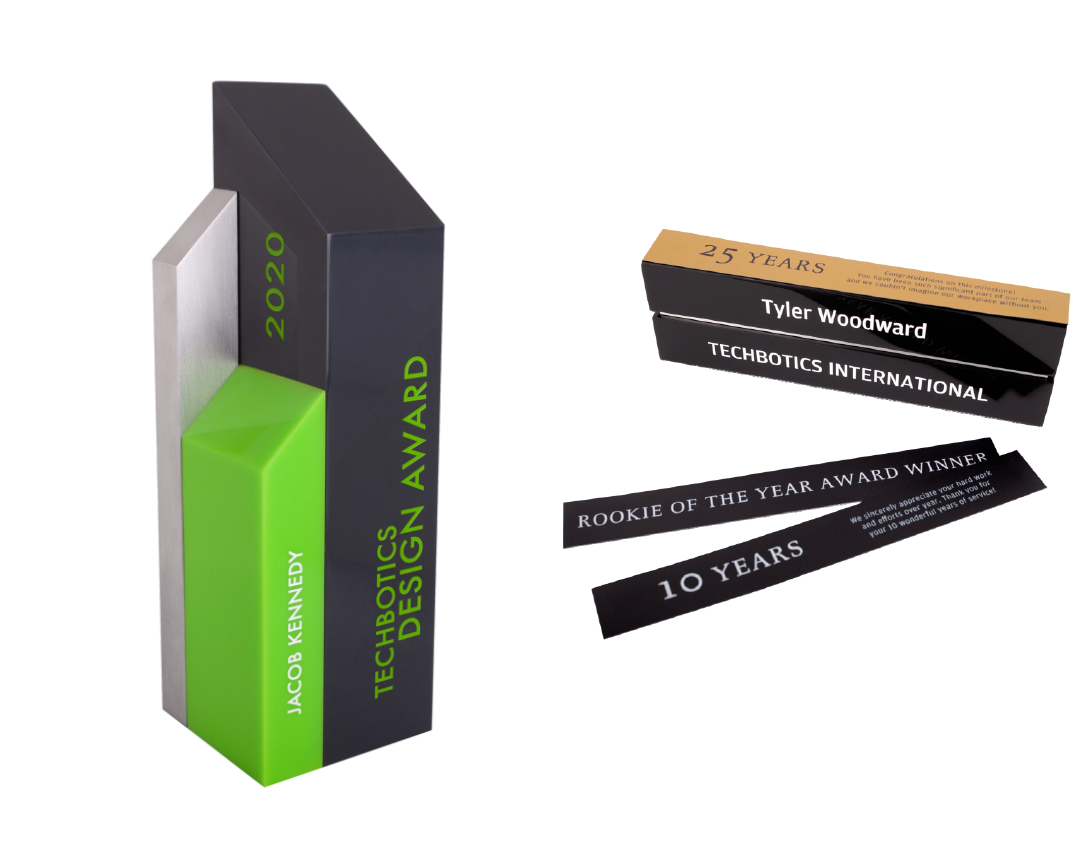 7. Useful
We've talked a lot about awards to show off on your desk. What about an award that's not so much… an award? We know that sounds silly but what about gifting a little less traditional. Maybe something that has a different function or use. In the past we know that recipients have really loved some of these ideas, take a look!  
Anything from pen holders, name plaques, or glassware can be designed to be an award. Golf putters, sports gear, even some apparel. While the recipient of the award would be more than proud to show this one off on their desk, they can also use it.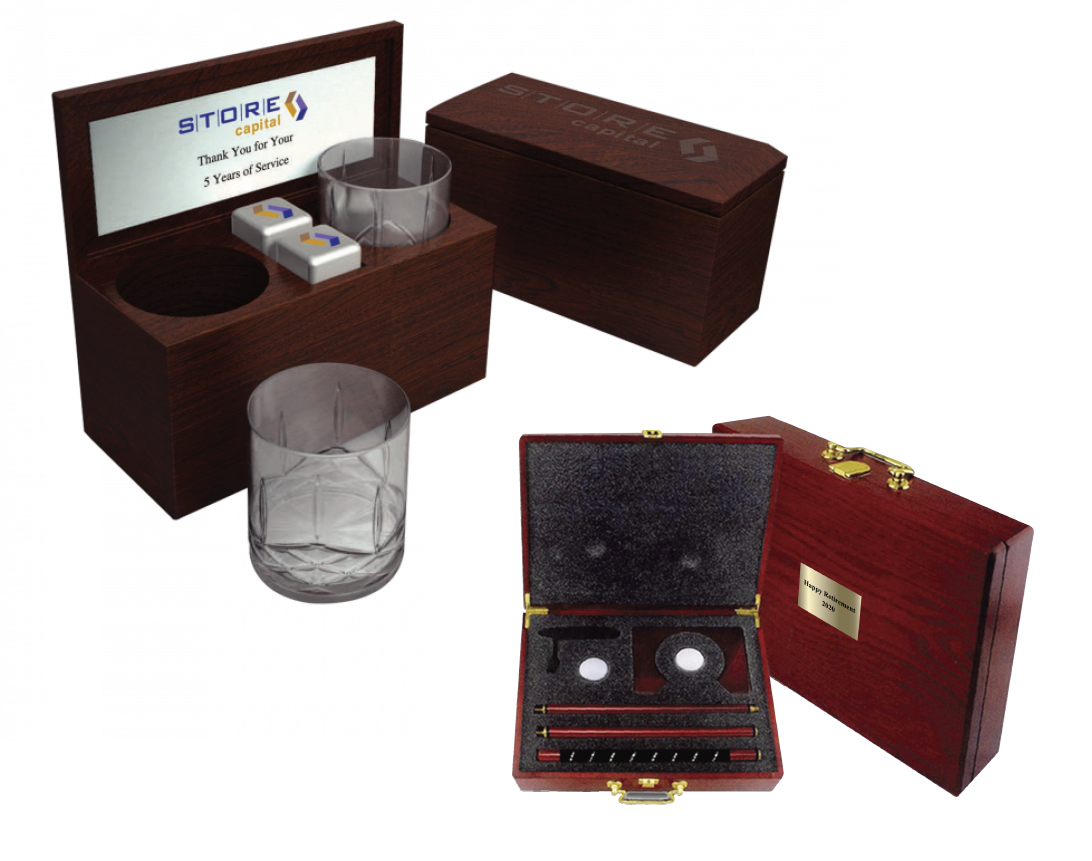 8. Wall Plaque
Let's think bigger than a desk here: a wall! Another popular option we've seen is getting wall plaques created as awards. This can be made with a number of different materials and makes more room on the desk! And hey, it's even more visible to those that walk by. Which, as we've mentioned before is great for company morale.
Another cool aspect of the wall plaques is that you can always add to them. You can make a few small ones, or one large one to continuously add onto throughout the years.  Or even have a wall plaque dedicated to everyone in the company. For example, if you have a recurring award such as "Quarter's Top Earner" and every quarter, order a new nameplate with the name of the recipient of this honor. It's prideful for them, but inspiring for others.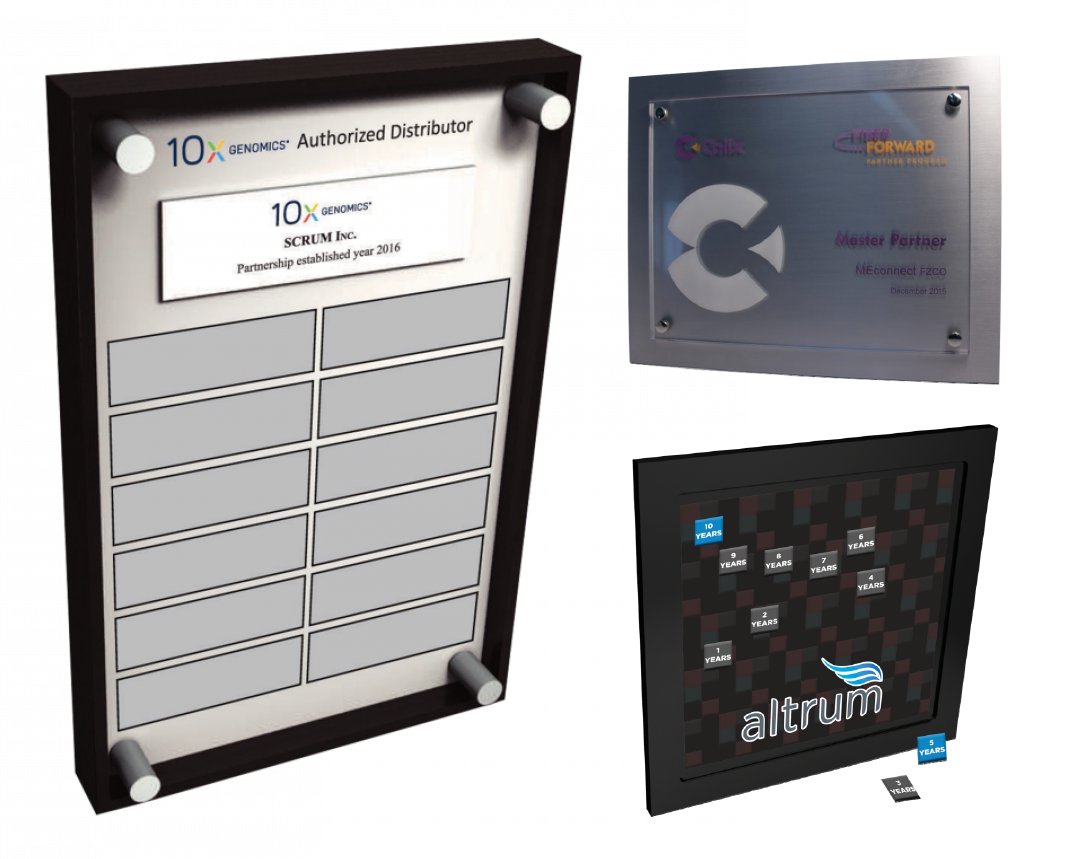 9. Illusion
This is sure to be an eye stopper: a floating award. We told you we can make anything happen! This category is sure to catch some eyes. Maybe a gravity-defying design idea hasn't crossed your mind but now we're sure it will. Awards tend to be classy and sleek, and most of the time even a rectangular shape. While we love them, we argue, that you can get a little crazy sometimes and keep that elegant look.  
Defying gravity is our middle name… not really but our artists can truly make magic happen when creating awards. See for yourself!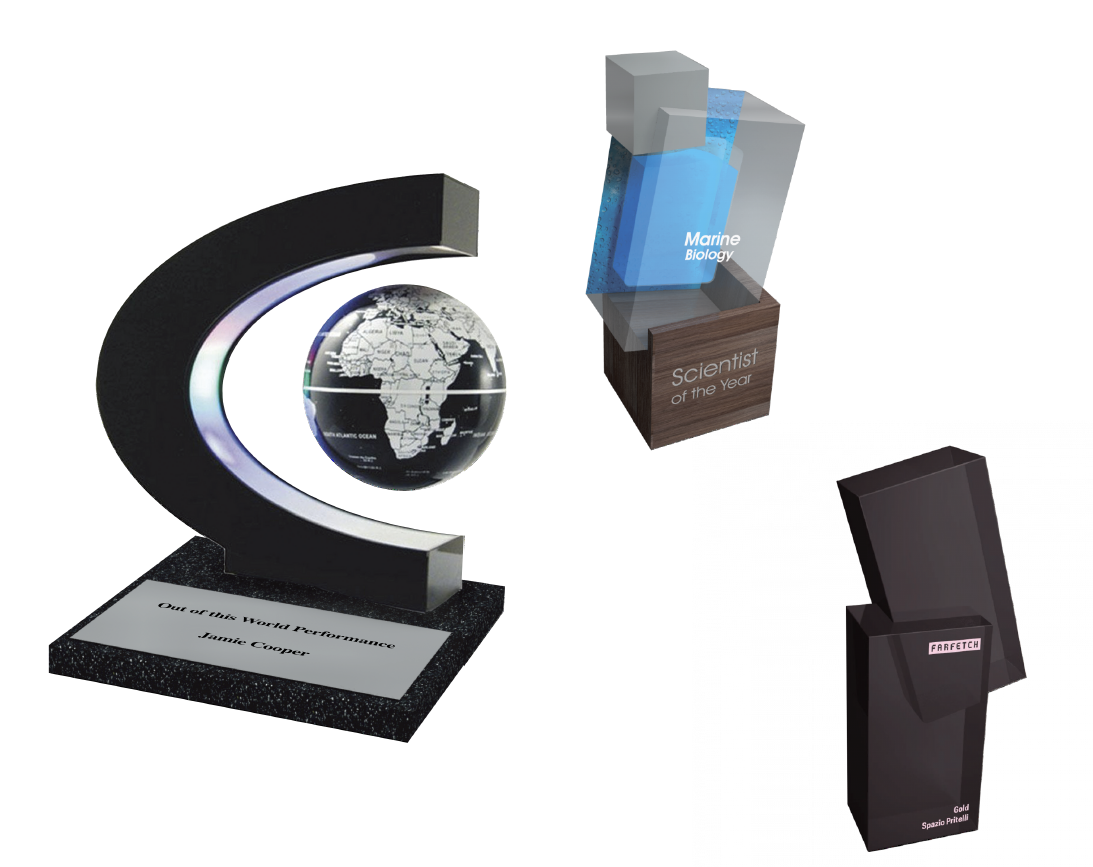 10. Gold Plated
Surely you've heard the saying that diamonds are a girl's best friend? Well, we argue that gold can be an award's best friend! Having a gold feature on your award will signify not only elegance but prestige.  
Even just including a gold-tinted airbrush finish can make a world of a difference in some cases. Make sure to ask, we have multiple finishes that will be sure to make your award go from ordinary to dazzling.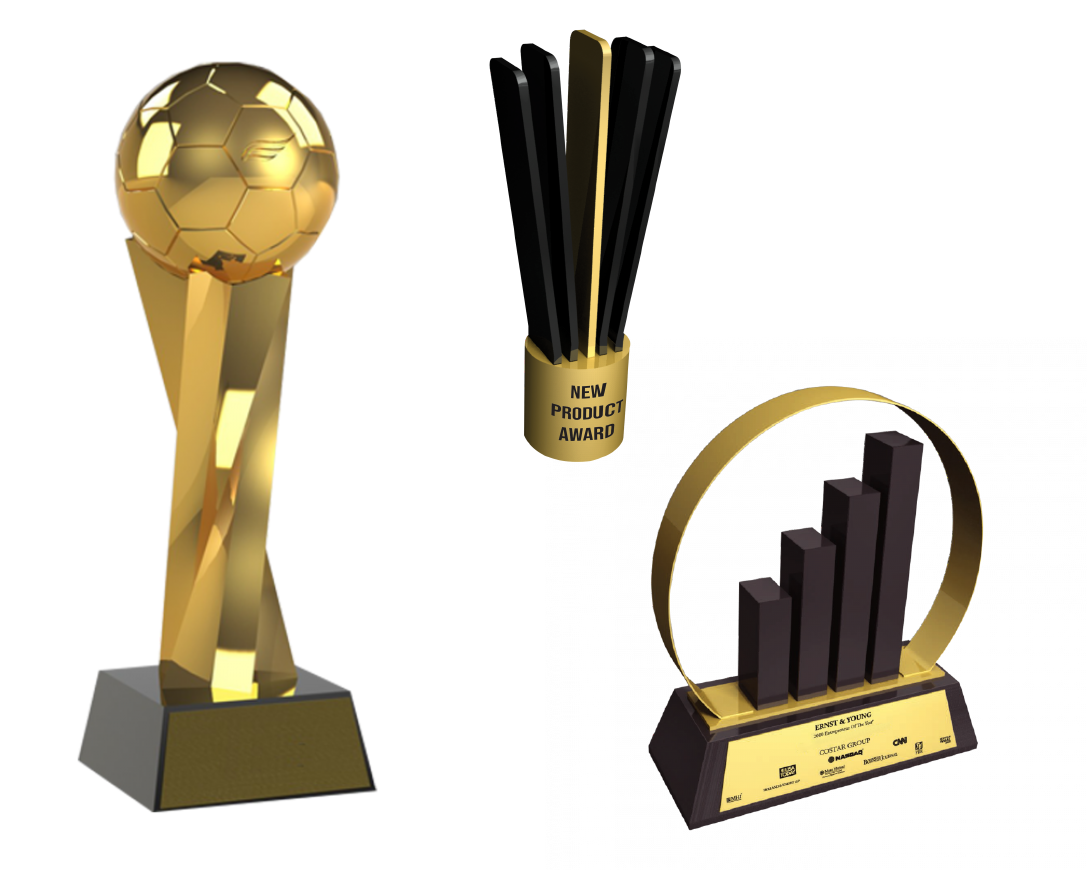 11. Logo Inspired
Anything created directly from your logo is a sure way to ensure that your recipient has their company and achievements top of mind.   This will be something for the recipient to keep throughout their entire career, whether they stay with your company for 20 years or 2 years. It's great for them to look back and remember those times. 
Not to mention, you want your brand everywhere possible. Be proud to gift an award that dons your logo and spread the word – your company is the place to be.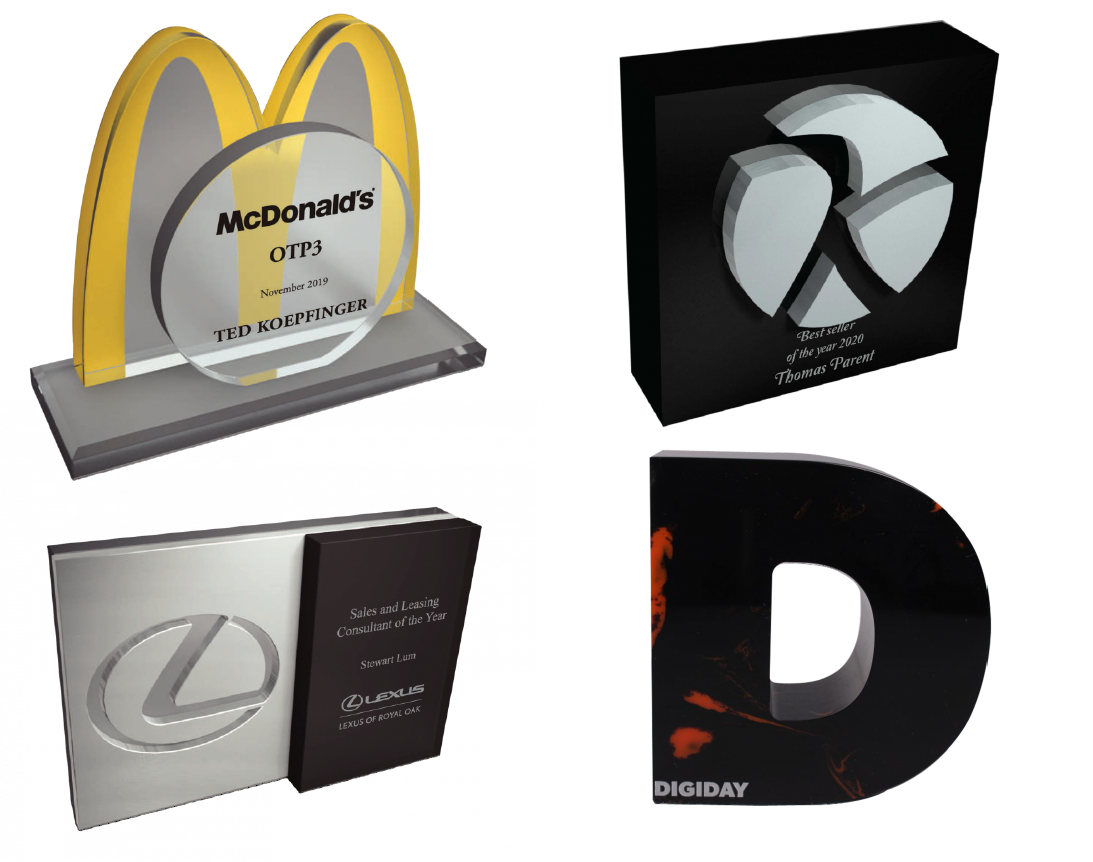 12. Mixed Material
When using more than one material throughout a deal toy design, you actually bring out the best aspects of each material. Having them juxtaposed is a great way to create appeal in a more classic or traditional design.  
For example, probably our most popular mixed material designs is wood. Wood looks great with metal, lucite, crystal, and stone. It's also extremely unique because we have several different finishes and wood types to use.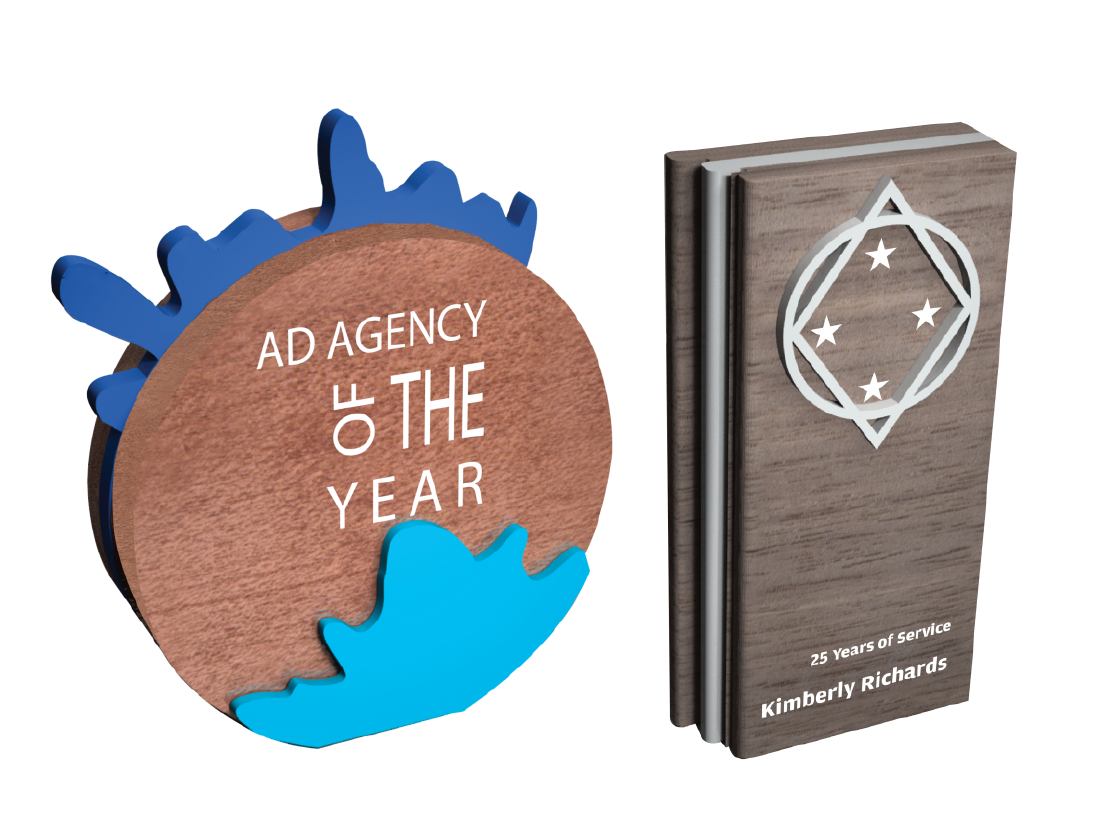 13. Recycled Material
Altrum has worked hard to keep its practices as green as possible. With that being said, we have focused on materials that have less of an environmental footprint. This is where we pitch wood or lucite.  
Using wood for your deal toys can be a great way to minimize the environmental footprint due to heavy shipping costs. While using lucite, you can physically send the piece to be recycled and that can be used for a number of different items, like bathtubs!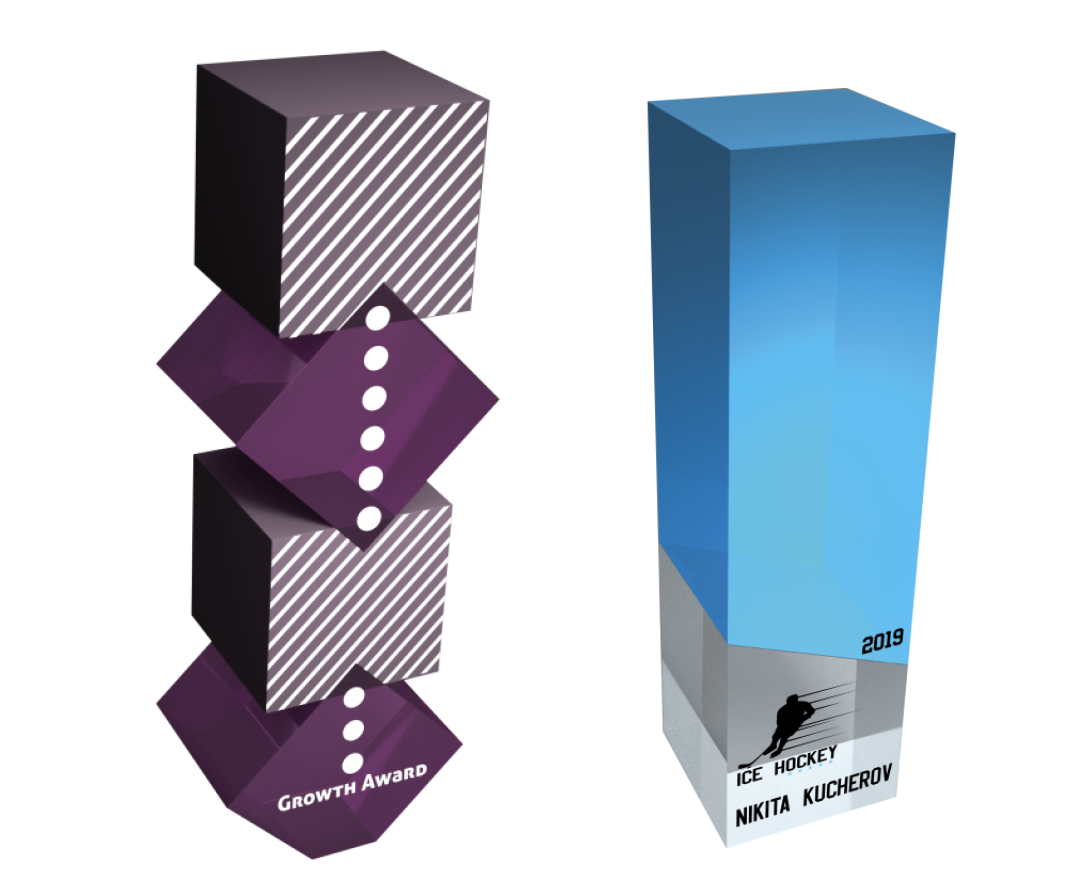 14. Cut Out
We thought we would add the "cut out" aspect as a design detail because it truly breaks the mold of the typical award style. There are plenty of cut out options, which can also be another great way to spotlight different materials.  We can cut essentially any material, so the options are endless. 
This could also be a great way to create a logo inspired design, which we've mentioned earlier on this list. Why not cut it out? We can cut out letters, logos, design aspects to give it a truly different look than that of the awards you typically see sitting around the office or desk.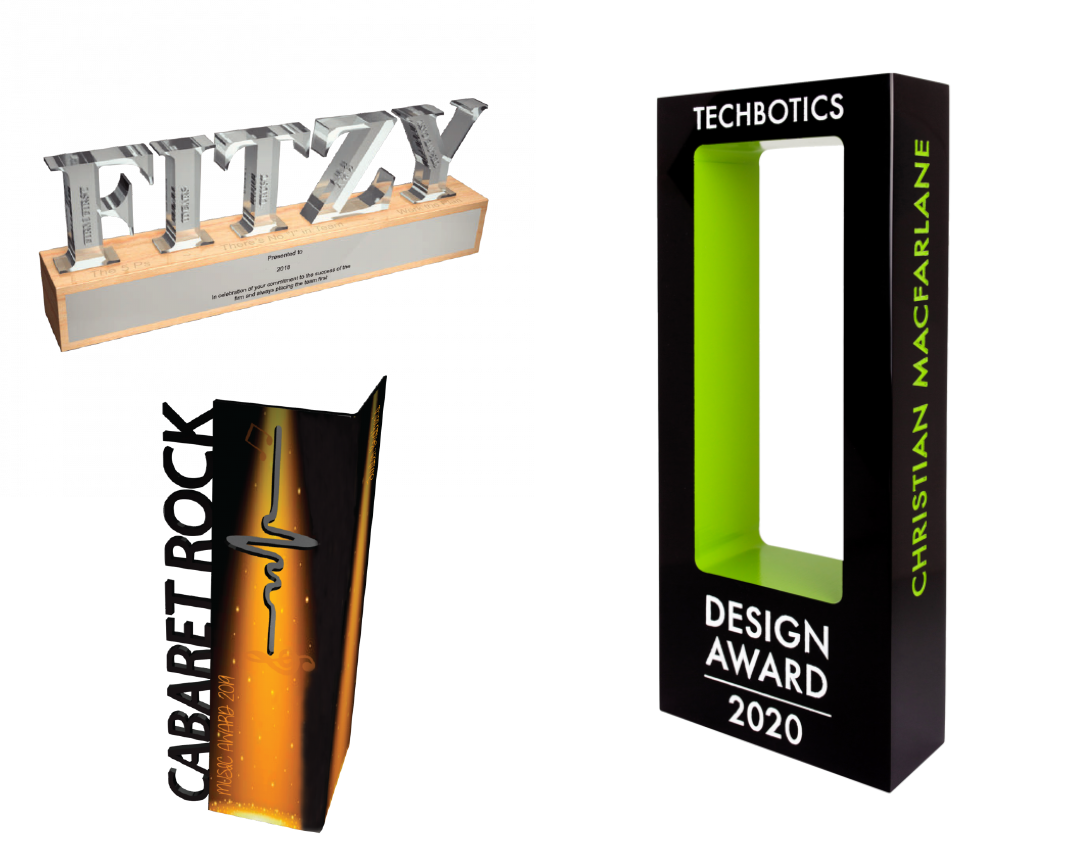 15. For Years to Come
This one is a fan favorite! Coming in at number 15 is a family member of our stackable mention earlier on the list. We wanted to mention that it doesn't have to be stackable. There are plenty of other options that you can have for years to come.
A few options include puzzle pieces or pieces that fit together. Small plaques that can be placed onto a larger piece, or even pieces like magnets that fall into place. These exact examples can be found on your right. Let us know what you think.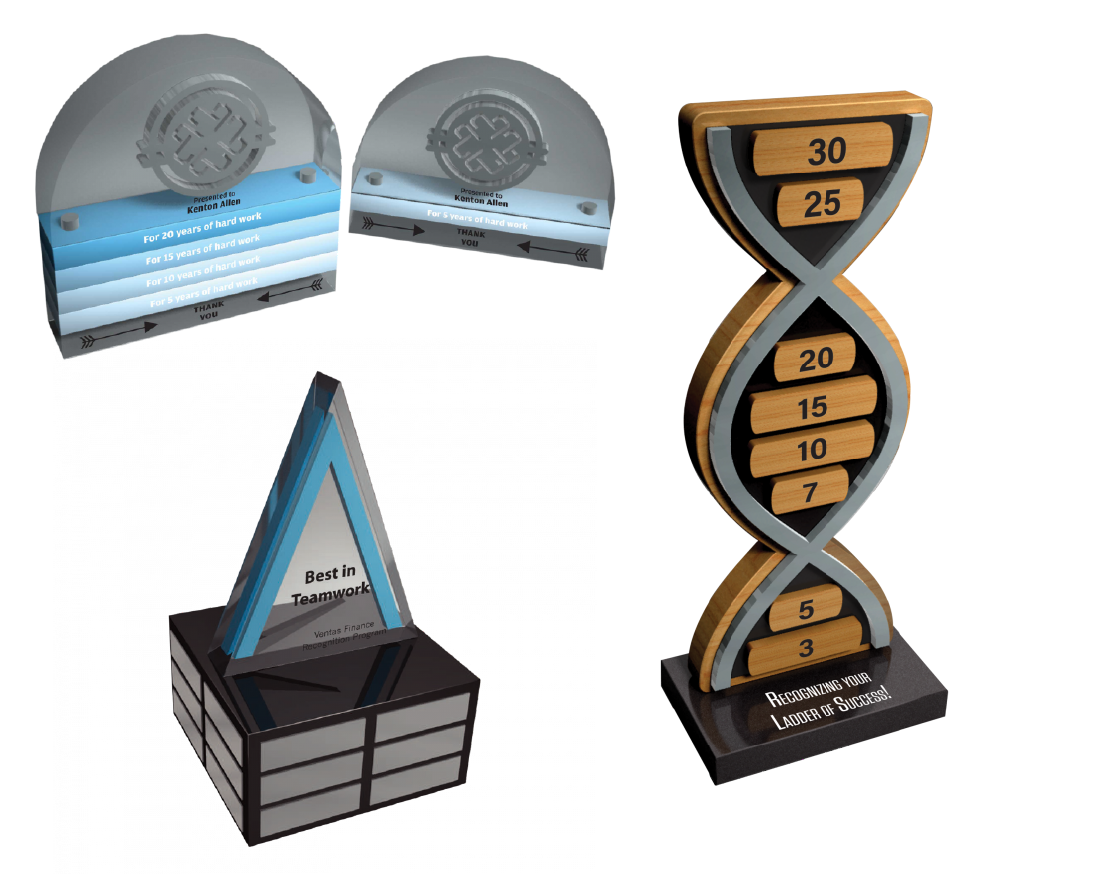 16. …is that an award?!
What about making a very playful award option? Could be something literal, something figurative, you name it, we can create it. Maybe you and your team have a running joke; why not incorporate that into a piece?
Here you'll see two options that look nothing like your typical awards. One looks like it could be found in a toy box and the other in a lunch box!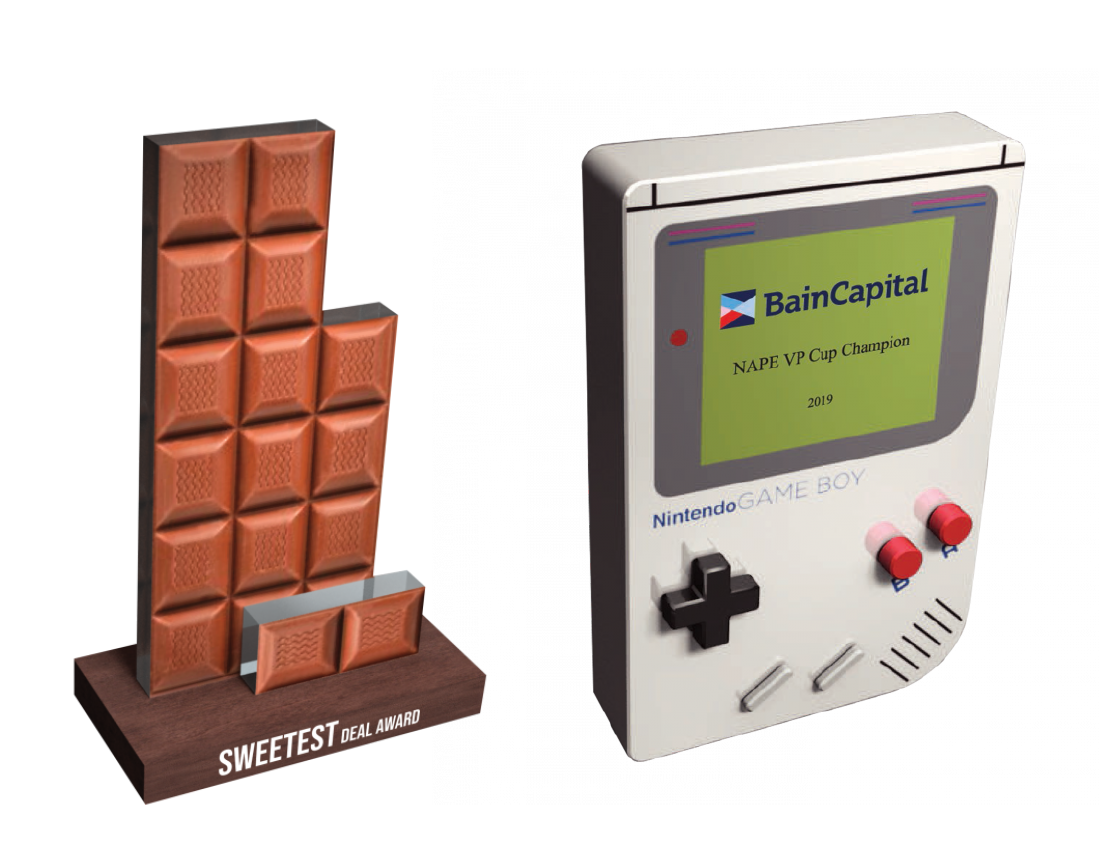 17. Embedment
There is no wrong or right time to choose to create an award with an embedment. It truly just depends on the idea that you're trying to bring to life. There's a multitude of things you can embed. Maybe a business card or article the recipient was featured in?
To note: if there's a specific item that you'd like to incorporate, we can always run it through tests to see if it's possible. We can also embed acrylic within the actual piece. This would make it look like a logo is floating within the piece. Check it out.
18. 3D print
3D printing seems to be a new way of creating things nowadays. Commonly used for small jewelry items but can also range to recreating different properties that will be built for designers to get a better picture. So why not 3D print an award?
This is a great option when the item, theme, or idea you have is all your own and it doesn't exist anywhere else. Our team of artists will sit down with you and discuss exactly what you're looking for. then, they'll get to work and send over a few 3D rendered designs and make any edits you might have. These are just two of our 3D printed awards. Have any unique ideas you'd like to see drawn up?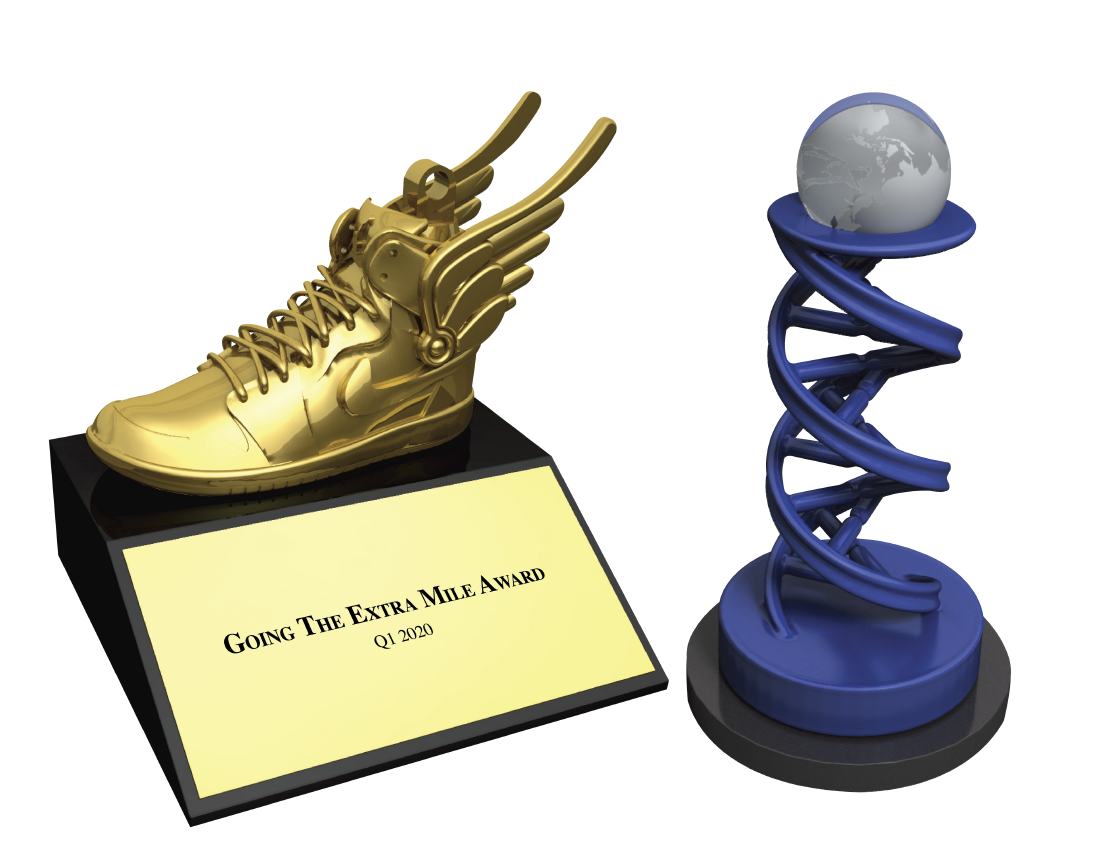 And there's more… 
If these design ideas still don't please you, great news: there's plenty more we can do. Just ask! There's a great world of designs in our online gallery here. As well as some additional blog posts we created that might help you brainstorm some showstopping ideas.  
We look forward to creating your next award order for you and recipients. While yes, we are in the business of creating awards, we are mainly here to make sure your achievements are celebrated for a lifetime. We'll chat soon!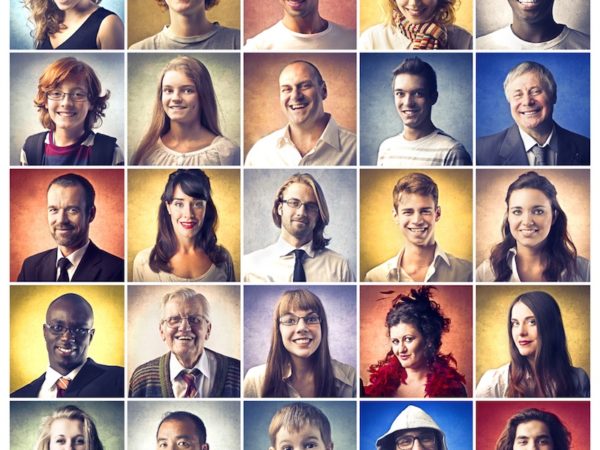 5 Elements To Promote Happiness In A Business
FastCompany published a recent article on the Secrets of America's Happiest Companies. The article compiles the results from the 50 happiest […]
the 4 Elements of Effective Recognition
One of the keys to driving employee engagement is recognition. Everyone needs to be recognized for the work they do. There are a million ways to […]