Top Flight
Portfolio
November 1, 2018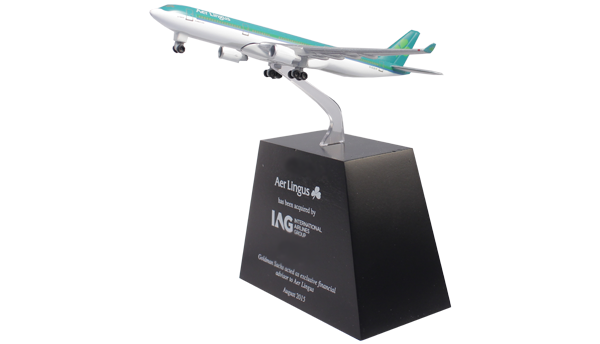 Aer Lingus is the national flag carrier airline of Ireland. It operates an all Airbus aircraft fleet serving Europe, North Africa, Turkey and North America. It is Ireland's oldest existing airline. To celebrate the International Airlines Group acquisition of Aer Lingus, the client wanted a deal toy that would reflect the Aer Lingus planes in a creative and majestic way.
The team was inspired by the Aer Lingus planes and wanted a deal toy that would incorporate a real 3D model of the planes, which would look like it was taking off from a tarmac (the black base of the deal toy). The plane would look as if it were flying in the air!
The challenges we faced were finding the perfect planes and showing the client the exact measurements of the base the very next day! Since we could not produce a traditional prototype within 24 hours, our team created an exact size replica of the plane and base made out of cardboard and hand delivered it to the client so they could show their team. They were very impressed and agreed that the measurements were perfect. We were ready to start production and meet their tight deadline.
The final deal toys looked fantastic with the 3D replica model of the plane. The design of the plane taking off from the base gave the whole piece a sense of energy. The client was extremely happy with our problem solving abilities and our desire to go the extra mile to make sure that everything was perfect for them. The deal toy was precisely what they had hoped for, and the special attention we gave them is a testament to the team's excellent client service practices.
Winter Wonderland Deal Toy
Our client was looking to celebrate a deal for a Utah-based ranch and distillery. The property is known for its luxurious amenities and splendid […]